Myeloid derived suppressor cells – a new therapeutic target in the treatment of cancer
Robert Wesolowski

†

1,

Joseph Markowitz

†

2 and
William E Carson

III

3

Email author
Journal for ImmunoTherapy of Cancer
2013
1:10
Received: 28 January 2013
Accepted: 14 June 2013
Published: 15 July 2013
Abstract
Myeloid Derived Suppressor Cells (MDSC) are a heterogeneous population of immature myeloid cells that are increased in states of cancer, inflammation and infection. In malignant states, MDSC are induced by tumor secreted growth factors. MDSC play an important part in suppression of host immune responses through several mechanisms such as production of arginase 1, release of reactive oxygen species and nitric oxide and secretion of immune-suppressive cytokines. This leads to a permissive immune environment necessary for the growth of malignant cells. MDSC may also contribute to angiogenesis and tumor invasion. This review focuses on currently available strategies to inhibit MDSC in the treatment of cancer.
Keywords
Myeloid derived suppressor cellsImmunotherapyTumor immunologyCancer vaccines
Introduction
Myeloid derived suppressor cells (MDSC) are a population of early myeloid cells that are expanded in various disease states including cancer and are capable of suppressing the immune response [1, 2]. In mice, MDSC express myeloid markers (Gr1 or CD11b). In humans, the Gr1 antigen is absent. Human MDSC express myeloid cell markers such as CD11b+and CD33+, but are usually negative for HLA-DR and lineage specific antigens (Lin) such as CD3, CD19 and CD57. Monocytic MDSC are usually characterized by HLA-DR-, CD11b+, CD33+ and CD14+ phenotype in humans (CD11b + Ly6G-/Ly6C+ in mice) whereas mature monocytes express HLA-DR. Granulocytic MDSC are usually characterized by HLA-DR-, CD11b+, CD33+, CD15+ phenotype in humans (CD11b + Ly6G+/Ly6Clow in mice). The immune cells with these phenotypes have been shown to possess immunosuppressive properties [3–5]. The prevalence of MDSC immunophenotypes vary depending on the disease being studied [2, 3]. An extensive discussion of MDSC phenotypic and functional heterogeneity is outside of the scope of this article and recent excellent reviews on this topic exist [1–3].
MDSC can be generated in the bone marrow in response to cancer derived factors such as granulocyte colony stimulating factor (G-CSF), IL-6, granulocyte monocyte colony stimulating factor (GM-CSF), IL-1β, prostaglandin E2 (PGE2), tumor necrosis factor α (TNFα) and vascular endothelial growth factor (VEGF) and are recruited to the tumor site by CCL2, CXCL12, and CXCL5 [
6
]. Additional signals stimulate MDSC to acquire immunosuppressive properties which are mediated through members of the signal transducer and activator of transcription (STAT1, STAT3, STAT6) and nuclear factor kappa-light-chain-enhancer of activated B cells (NF-κB) transcription factors [
1
]. Activated MDSC produce arginase 1 (ARG1), inducible nitric oxide synthase (NOS2), IDO (indoleamine 2,3-dioxygenase), NADPH oxidase and immunosuppressive cytokines that have the potential to inhibit cytotoxic T lymphocytes (CTLs), dendritic cells (DC), and natural killer (NK) cells as well as expand CD4
+
CD25
+
FoxP3
+
regulatory T cells (Tregs). This leads to an immunologically permissive tumor microenvironment [
7
,
8
]. Peripheral blood MDSC levels correlate with a higher tumor burden and a worse prognosis [
9
–
11
]. MDSC may impair the efficacy of cancer vaccines via direct effects on T cell activation and antigen presentation by DC [
12
]. Inhibition of MDSC in murine models may enhance anti-tumor immunity by increasing responsiveness to interferon stimulation [
13
]. Inhibition or depletion of MDSC enhances the activity of cancer vaccines in animal models (Table
1
). MDSC inhibition could be a useful adjunct to immune therapies in man and can be placed into four categories; 1) Deactivation of MDSC; 2) Differentiation of MDSC into mature cells; 3) Inhibition of myeloid cell development into MDSC; and 4) Depletion of MDSC (Figure
1
). This review was undertaken to help researchers and clinicians become familiar with the many agents that can modulate MDSC function. Asterisk (*) was placed in Figure
1
next to the agents that are already undergoing clinical investigation as potential MDSC inhibitors in humans.
Table 1
Murine cancer vaccine studies that utilized MDSC inhibitors
| MDSC Inhibition Strategy | Tumor model | Vaccine | Effect of MDSC Modulation |
| --- | --- | --- | --- |
| ATRA [14] | (a) C3 fibrosarcoma in C57BL/6 mice | (a) H-2Db-restricted epitope of the HPV-16 E7 | (a) Decreased tumor size by ~3 fold at 35 days; enhanced CD8+ response |
| | (b) 3-methylcholanthrene-induced sarcoma containing mutant p53 gene in BALB/c mice | (b) Wild type p53 DC vaccine | (b) Decreased tumor size by ~5 fold; enhanced CD8+ responses |
| Gemcitabine [15] | Pancreas adenocarcinoma (Panc02) expressing murine survivin in C57BL/6 mice | Modified Vaccinia Ankara virus (MVA) expressing murine survivin protein | 50% survival vs. 0% in control mice at 50 days; enhanced CD8+ responses |
| ATRA + anti-CD25 antibody [16] | Tumor bearing IL-1RI competent or IL-1RI deficient mice | cDNA IL-1α attenuated S. typhimurium and/or IL-1 competent or IL-1 deficient fibrosarcoma cell lysates | Decreased MDSC and Treg levels; significantly enhanced survival of IL-1 RI competent mice |
| Nitroaspirin derivative (NCX-4016) [17] | (a) CT26 colon carcinoma in C57BL/6 and BALB/c mice | Plasmid DNA vaccine encoding extracellular and trans-membrane domains of p185 peptide | (a) 20% cure rate at 120 days |
| | (b) Her-2/neu + (p185) N2C breast carcinoma in C57BL/6 and BALB/c mice | | (b) 56% cure rate at 120 days |
| CDDO-Me (Triterpenoid) [18] | EL-4 thymoma in C57BL/6 | DC transduced with murine survivin | Decreased tumor size by 2 fold; enhanced antigen specific immune response |
| IL-13-PE (cytotoxin composed of IL-13 and Pseudomonas exotoxin) [19] | (a) 4 T1 breast carcinoma in BALB/c mice | DNA vaccine encoding α2 chain of IL-13R | Decreased tumor size by 5 fold; decreased MDSC and Treg levels; enhanced T cell responses; enhanced survival by 35 days. |
| | (b) MCA304 sarcoma in C57BL/6 mice | | |
| Sunitinib [20] | MO5 (B16.OVA: H-2b) melanoma on C57BL/6 mice | IL-12 transfected DC pulsed with OVA I and II peptides. | Loss of tumor associated MDSC and Tregs; enhanced CD8+ T cell responses |
| Gemcitabine [21] | Her-2/neu + SK-BR-3 breast carcinoma or mHER2/CT26 (colon carcinoma transfected with murine Her-2/neu) in BALB/c mice | (a) AdhHM | (a) No anti-tumor effect of AdhHM alone |
| | | (b) AdhHM + anti- GITR antibody | (b) Decreased tumor size by >5 fold; (p < 0.005); CD8+ cell dependent rejection of syngeneic tumor cells |
| | | (c) AdhHM + α galactosylceramide loaded DCs | (c) Decreased tumor size by >5 fold |
| Cisplatin [22] | TC-1 lung carcinoma expressing E7 protein in C57BL/6 mice | E7 DNA vaccine | Enhanced tumor lysis mediated by E7 specific CD8+ cells; reduced tumor volume |
| Zoledronic Acid [23] | Transgenic Balb T-Neu mice (express activated rat c-erbB-2/neu transgene) | Plasmid DNA encoding portion of the rat p185/Her-2 gene | Delayed tumor onset and reduced in tumor size |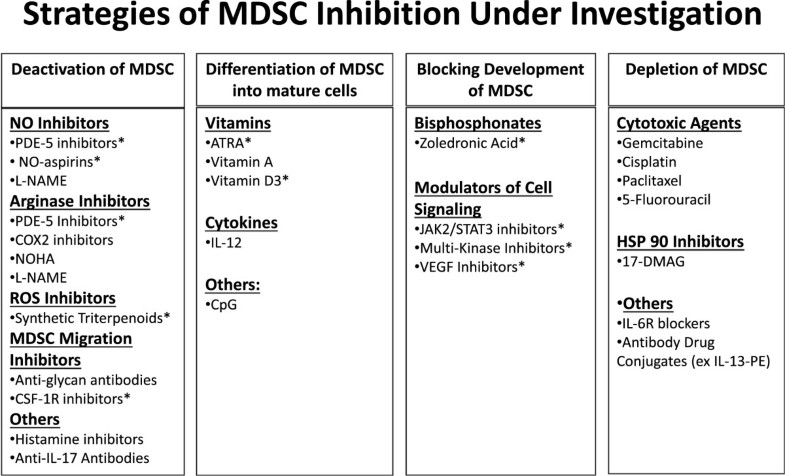 Conclusion
Pre-clinical evidence suggests that cancer vaccines are more effective in tumor bearing mice that have been depleted of MDSC [14, 17, 18, 23]. The overall mechanism of cancer mediated expansion of MDSC and the resultant immune suppression is expected to be similar between humans and mice making the results of murine experiments useful in developing new anti-MDSC agents and testing them in clinical trials. There is wide range of potential therapeutic targets that are involved in MDSC production and their immunosuppressive function. MDSC may be inhibited via the use of phosphodiesterase inhibitors, nitroaspirins, synthetic triterpenoids, COX2 inhibitors, ARG1 inhibitors, anti-glycan antibodies, CSF-1R, IL-17 inhibitors and histamine based approaches. MDSC may be differentiated by using ATRA, vitamins A or D3 or IL-12. Agents that block the formation of MDSC include N-Bisphosphonates, modulators of tyrosine kinases, and STAT3 inhibitors. Agents that decrease levels of MDSC include gemcitabine, HSP90 inhibitors, and paclitaxel. Some compounds, such as ATRA, PDE5 inhibitors, nitro-aspirins (e.x. NCX 4016), or tyrosine kinase inhibitors are already in clinical trials testing their ability to inhibit MDSC and enhance anti-tumor immunity in humans. Others such as anti-histamines, anti-glycan inhibitors, CpG, IL-12, IL-13-PE or HSP 90 inhibitors are still undergoing testing as MDSC inhibitors in pre-clinical models. Compounds already FDA approved (e.g. ATRA, PDE5 inhibitors, COX-2 inhibitors or bisphosphonates) will likely be the first to enter late phase clinical trials to test their ability to suppress MDSC and improve the efficacy of immune modulating therapies (immune checkpoint inhibitors or cancer vaccines). Further research is needed to identify the most promising compounds for clinical development.
Authors' information
RW is an Assistant Professor in Department of Internal Medicine at Ohio State University on a tenure track. Dr. Wesolowski is a board certified academic medical oncologist involved in translational and clinical research and treatment of breast cancer. He currently collaborates with Dr. William Carson's laboratory. His research interests are in tumor immunology, early phase clinical trials and prognostic and predictive value of Myeloid Derived Suppressor Cells (MDSC).
JM is a physician scientist, is a U.S. Board Certified Internist who has just completed a clinical Medical Oncology training program. Currently, he is working in the laboratory of Dr. William Carson as a postdoctoral fellow. To date, he has had experience both in pre-clinical and clinical development of experimental therapeutics including a published patent. He has expertise in biochemistry, protein NMR spectroscopy, and fluorescence spectroscopy. He has joined Dr. Carson's laboratory to gain experience in immunology and animal tumor models.
WC is a Professor of Surgery and Medical Microbiology and Immunology. Dr. Carson is also an associate director of clinical research at the Ohio State University Comprehensive Cancer Center and a co-leader of the institution's Immunology Program. He is co-Investigator on a Project Program Grant in Innate Immunity. Dr. Carson chairs the Institutional Review Board at the Ohio State University, and is the Institutional principal investigator for National Comprehensive Cancer Network. He has a laboratory and focuses on work related to exploring interactions of immune system and malignancies. He also specifically investigates immune function of MDSC. His work includes testing MDSC inhibitors and studying pre-clinical models of MDSC inhibition that would facilitate the development of early clinical trials with MDSC modulating agents.
Robert Wesolowski and Joseph Markowitz are co-first authors.
Abbreviations
5-FU:

5-Fluorouracil
AOM:

Azoxymethane
ADC:

Antibody drug conjugate
ARG:

Arginase
ATRA:

All-trans retinoic acid
CAR:

Chimeric antigen receptor
CCL:

Chemokine Cc motif Ligand
CD:

Cluster of differentiation
CDDO-Me:

Bardoxolone methyl
CSF-1R:

Colony stimulating factor receptor 1
cGMP:

Cyclic guanosine monophosphate
CpG:

Unmethylated deoxycytosine-deoxyguanine dinucleotide (CpG) motifs
CpG ODN:

Oligodexynucleotides
CTL:

Cytotoxic T lymphocytes
CXCL:

CXC Chemokine Ligand
COX2:

Cyclooxygenase 2
CuB:

Cucurbitacin B
DC:

Dendritic cells
DSS:

Dextran sodium sulfate
DNA:

Deoxyribonucleic acid
EphA2:

Ephrin type-A receptor 2
FasL:

Fas ligand
FoxP3:

Forkhead box P3
FPP:

Farnesyl-diphosphate
G-CSF:

Granulocyte colony stimulating factor
GM-CSF:

Granulocyte monocyte colony stimulating factor
gp70env:

Envelope glycoprotein gp70
Gr1:

Granulocyte differentiation antigen 1
H2 blockers:

Histamine H2 receptor blockers
Her-2/neu:

Human epiderrmal growth factor receptor 2
HLA:

Human leukocyte antigen
HPV:

Human papilloma virus
HSP90:

Heat shock protein 90
IDO:

Indoleamine 2,3-Dioxygenase
IFN:

Interferon
IFNγR:

Interferon gamma receptor
IL:

Interleukin
IL-13-PE:

IL-13 Linked to pseudomonas exotoxin
IL4Rα:

Interleukin 4 Receptor α chain
JAK2:

Janus-Activated Kinase-2
Lin:

Lineage marker
L-NAME:

N(G)-Nitro-L-Arginine Methyl Ester
MDSC:

Myeloid derived suppressor cell(s)
mRNA:

messenger ribonucleic acid
MMP9:

Metalloproteinase 9
MVA:

Modified vaccinia ankara
NADPH:

Nicotinamide adenine dinucleotide phosphate (reduced).
NF-kB:

Nuclear Factor kappa-light-chain-enhancer of activated B cells
NK:

Natural Killer cells
NKT:

Natural killer T cells
NO-aspirin:

Nitro-aspirin
NOHA:

N-hydroxy-L-Arginine
NOS:

Nitric oxide synthase
NQO1:

Quinone oxidoreductase 1
NRF2:

Nuclear factor-erythroid 2-Related Factor 2
PBMC:

Peripheral blood mononuclear cells
PGE:

Prostaglandin E
PGE-5:

Phosphodiesterase-5
RAGE:

Receptor for advanced Glycation End products
RAR:

Retinoid-activated transcriptional regulators
ROS:

Reactive oxygen species
STAT:

Signal transducer and activator of transcription
Th1:

Type 1 T-helper cells
Th2:

Type 2 T-helper cells
TLR:

Tall-Like Receptor
TNF:

Tumor necrosis factor
Tregs:

T regulatory cells
TRAMP:

Transgenic adenocarcinoma of the mouse prostate
VEGF:

Vascular endothelial growth factor
VEGFR-2:

Vascular endothelial growth factor receptor 2.
Declarations
Acknowledgements
We would like to acknowledge UL1TR000090 from the National Center For Advancing Translational Sciences (to R. Wesolowski), T32CA090223 (to J. Markowitz) and P01 CA95426-08 (to W.E. Carson).
Authors' Affiliations
(1)
Division of Medical Oncology, Columbus, USA
(2)
Division of Medical Oncology, Columbus, USA
(3)
The Ohio State University Comprehensie Cancer Center, Columbus, USA
Copyright
© Wesolowski et al.; licensee BioMed Central Ltd. 2013
This article is published under license to BioMed Central Ltd. This is an Open Access article distributed under the terms of the Creative Commons Attribution License (http://creativecommons.org/licenses/by/2.0), which permits unrestricted use, distribution, and reproduction in any medium, provided the original work is properly cited.