Prospects for combined use of oncolytic viruses and CAR T-cells
Journal for ImmunoTherapy of Cancer
2017
5:90
Received: 5 June 2017
Accepted: 17 October 2017
Published: 21 November 2017
Abstract
With the approval of talimogene laherparepvec (T-VEC) for inoperable locally advanced or metastatic malignant melanoma in the USA and Europe, oncolytic virotherapy is now emerging as a viable therapeutic option for cancer patients. In parallel, following the favourable results of several clinical trials, adoptive cell transfer using chimeric antigen receptor (CAR)-redirected T-cells is anticipated to enter routine clinical practice for the management of chemotherapy-refractory B-cell malignancies. However, CAR T-cell therapy for patients with advanced solid tumours has proved far less successful. This Review draws upon recent advances in the design of novel oncolytic viruses and CAR T-cells and provides a comprehensive overview of the synergistic potential of combination oncolytic virotherapy with CAR T-cell adoptive cell transfer for the management of solid tumours, drawing particular attention to the methods by which recombinant oncolytic viruses may augment CAR T-cell trafficking into the tumour microenvironment, mitigate or reverse local immunosuppression and enhance CAR T-cell effector function and persistence.
Keywords
Oncolytic virusChimeric antigen receptorCAR T-cellAdoptive cell transferCombination strategiesSynergismSolid tumours
Background
This review focuses on the prospects for the synergistic combinatorial use of two distinct immunotherapeutic modalities – adoptive cell transfer (ACT) of chimeric antigen receptor (CAR)-expressing T-cells and oncolytic virotherapy. The latter has a long historical pedigree dating back to the 1950s, but has only very recently entered into routine clinical practice. This followed the approval of talimogene laherparepvec (or T-VEC), a recombinant granulocyte macrophage colony-stimulating factor (GM-CSF)-containing human herpes simplex type I virus (HSV-1), for inoperable locally advanced or metastatic malignant melanoma based upon compelling efficacy data from the phase III OPTiM trial [1]. T-VEC is currently being investigated in a number of early and late phase clinical trials in melanoma and other solid malignancies. These include its co-administration with immune checkpoint inhibitors targeted against programmed cell death protein 1 (PD-1; e.g. pembrolizumab or nivolumab), cytotoxic T lymphocyte antigen 4 (CTLA-4; e.g. ipilimumab) [2] or the combination of T-VEC with systemic chemotherapy [3] or radiotherapy [4, 5]. Several other oncolytic viruses (OVs) are also undergoing clinical evaluation (e.g. GL-ONC1 [6], vvDD [7]).
Clinical use of CAR T-cell therapy on the other hand has emerged within the last decade. This has followed on from the successful use of tumour infiltrating lymphocyte (TIL)-based ACT for patients with advanced melanoma, originally developed by Rosenberg and colleagues at the National Cancer Institute (NCI) in the late 1980s [8]. Autologous CAR T-cell therapy targeting the B-cell-specific cell surface protein CD19 have induced lasting and deep remissions in patients with refractory B-cell malignancies, such as acute lymphoblastic leukaemia (ALL) or chronic lymphocytic leukaemia (CLL) [9]. Several Phase II clinical trials investigating second generation anti-CD19 CARs have now reported and these agents are expected to enter routine clinical practice imminently. However, the development of effective CAR T-cell therapies for solid tumours has proved far less straightforward, owing to several critical obstacles pertaining to safety and potency. This review attempts to present opportunities to overcome these issues by highlighting potential for synergistic immunotherapy with oncolytic virotherapy.
Oncolytic virotherapy: the story so far
The development of genetically engineered OVs came to the fore in the 1990s with the first clinical trials of recombinant adenoviruses, such as ONYX-015 [10]. For a long time, it was assumed that the dominant mechanism underpinning the anti-cancer effect of these agents stemmed from their oncolytic potential. It is now apparent, however, that the lysis of virally infected cancer cells plays a relatively indirect role in inducing tumour regression and long-term clinical benefit in most patients. Instead, it has become clear that clinical efficacy of OVs (such as T-VEC) is strongly dependent upon their ability to convert tumours into living "vaccine factories". These provide immunological "danger signals" that include small molecules (e.g. uric acid [11] and adenosine triphosphate (ATP)), and protein mediators such as high-mobility group box 1 (HMGB1) [12] and type I interferon (IFN) signalling [13]. By this means, OV infection results in enhanced tumour-associated antigen presentation (due to neo-antigen spreading), improved T-cell and natural killer (NK) cell trafficking into the tumour microenvironment (TME) and enhanced effector function, leading to a "bystander effect" at local and distant sites of disease. Efficacy of oncolytic virotherapy is therefore dependent upon a complex interplay between functional innate and adaptive immune cells within the patient and more specifically within the TME itself. Many solid tumours present a significant barrier to this process whereby the TME is either non-permissive to entry of effector immune cells or exerts immunosuppressive effects on those cells that do manage to gain access [14]. The ability of recombinant OVs to modulate the TME is now being exploited further by rationally inserting transgenes to encode immunostimulatory cytokines, chemokines or co-stimulatory molecules into viral virulence genes, thus fulfilling a dual strategy of optimising tumour tropism and specificity. Oncolytic viruses are therefore highly attractive agents to use in combination with cellular therapies when targeting solid tumours.
A wide variety of OV vectors spanning numerous viral families have been identified and developed [
13
]. Pre-clinical and clinical studies are currently evaluating the potential of oncolytic adenoviruses, herpesviruses, poxviruses, picornaviruses (including coxsackievirus, polioviruses and Seneca Valley virus), paramyxoviruses (including measles viruses and Newcastle disease virus (NDV)), reoviruses, parvoviruses and rhabdoviruses (e.g. vesicular stomatitis virus (VSV)). The number of clinical trials evaluating OVs either alone or in combination with other therapies has expanded rapidly and these are summarised in detail in Table
1
. Globally, two viruses, T-VEC and H101 have now achieved regulatory approval. H101 is a genetically modified oncolytic adenovirus that was approved in China in November 2005 for the treatment of nasopharyngeal carcinoma in combination with systemic chemotherapy [
15
]. The diversity of available OVs, each with their own hallmarks of tumour tropism and specificity, virulence and oncolytic potential allows for the nuanced and optimal selection of OVs for combined use with cellular therapies such as CAR T-cell therapy. Furthermore, many OVs have undergone extensive iterative laboratory-based study during the development of anti-viral vaccines over many decades. This provides reassurance with regards to safety and tolerability following administration in human subjects. Oncolytic strains of vaccinia virus – a large, complex, enveloped poxvirus – have the longest and most extensive history of administration in humans of any known virus due to their use in the eradication of smallpox during the middle of the last century [
16
].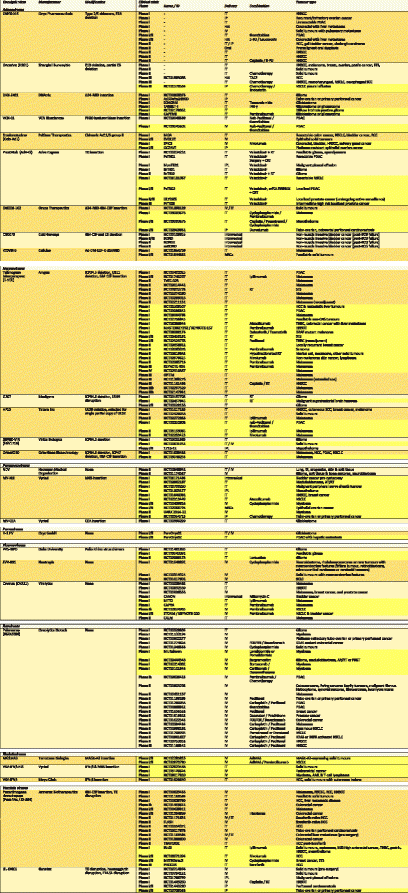 As gene-manipulating technologies have moved to the forefront of bio-scientific research, great strides have been made in understanding and delineating the mechanisms of tumour tropism and specificity. Although this remains incompletely understood, it is recognised that many OVs are dependent upon cancer cells providing a nucleotide-rich environment and expressing relatively high levels of key molecules conducive to viral genomic replication, relative to normal tissue. Several mechanisms may underlie the tumour specificity of OVs. First, some OV achieve preferential viral entry into cancer cells by binding to cell surface molecules that are more highly expressed by certain tumours. This is illustrated by the ability of many OV strains of coxsackievirus to bind to intercellular adhesion molecule 1 (ICAM-1), which is a cell adhesion molecule that is over-expressed in many tumours [17]). Alternatively, OVs may exploit specific aberrant signalling pathways in cancer cells through one of many mechanisms. For example, vaccinia virus replication is favoured by heightened epidermal growth factor receptor (EGFR)-RAS signalling, as found in many solid tumours [18]. Similarly, overexpression of B-cell lymphoma (BCL) pro-survival proteins (such as BCL-xL) is targeted by NDV, which is able to continuously replicate and induce syncytium formation in apoptosis-resistant cells [19] while p53 deficient cancer cells are more susceptible to E1B deleted adenoviral strains [20]). The absence or impairment in cancer cells of type I IFN signalling renders these cells more susceptible to several OV strains [21]. Alternatively, some OV types exhibit preferential sequestration by the tumour microvasculature, as is seen with many vaccinia strains [22].
Many OVs such as adenoviruses and poxviruses have sufficiently large genomes to facilitate the insertion of foreign genes. The ability of recombinant OVs to modulate the TME is being exploited further by rationally inserting transgenes to encode immunostimulatory cytokines, chemokines or co-stimulatory molecules into viral virulence genes, thus fulfilling a second strategy aside from optimising tumour tropism and specificity [13]. Specifically, recombinant OVs can circumvent many of the tumour's mechanisms of immune escape (e.g. by enhancing type I IFN signalling, upregulating major histocompatibility complex (MHC) class I expression on cancer cells [23], targeting enhanced transforming growth factor beta (TGF-β)/Wnt/β-catenin signalling and its negative impact upon antigen presentation [24] or by delivering inhibitors of active immunosuppressive pathways in the TME e.g. prostaglandin E2 (PGE2) [25] or adenosine A2a receptors (A2ARs). They may also deliver a therapeutic payload designed to enhance their oncolytic potential (e.g. apoptotic proteins such as apoptin [26] or death receptor ligands [27]).
Oncolytic viruses may be administered systemically or via intra-tumoural injection. This facilitates the broad application of OVs to specific combinatorial immunotherapeutic strategies. Both methodologies are associated with specific advantages and disadvantages. For example, the systemic delivery of OVs may be limited by the host's defences. Viral particles may be sequestered by neutralising antibodies or by complement activation within the circulation; they may be filtered by the lungs, liver or spleen; and they may encounter physical barriers that limit their escape from the vascular compartment or prevent their entry into the TME [28]. Local instillation of OV into the tumour may bypass many of these barriers. However, due to their location many tumours are not immediately accessible to targeted OV delivery. They may be located deep within the body or in close proximity to critical structures. The systemic delivery of OVs also affords a method of targeting multiple metastatic deposits simultaneously. Several techniques have been explored in order to optimise the systemic delivery of OVs, such as by using cytokine preconditioning [29], complement inhibitors [30], immunomodulatory agents such as cyclophosphamide [31, 32], B-cell depleting agents such as rituximab or with plasmapheresis [33]. Transduced cytotoxic T-cells containing OV DNA have also been utilised as "Trojan horses" for ACT [34].
Currently there remain many stumbling blocks to the use of OVs as monotherapies in cancer patients. Aside from recent success seen in the field of malignant melanoma, only modest potency has been demonstrated in patients with other advanced solid tumours. One issue relates to the presence of pre-existing anti-viral antibodies in patients who have previously been vaccinated with similar vectors [28]. And in those who have not been vaccinated, the administration of an OV typically leads to the rapid development of immunity and viral clearance by neutralizing antibodies and complement. Other barriers to the efficient systemic delivery of OVs include aberrant tumour vasculature, mis-localisation and sequestration in non-target tissues and inadequate extravasation from the circulation [35]. Due to their putative immune-mediated mechanism of action, they require a relatively intact host innate and adaptive immune system. This is often compromised in cancer patients, whose relative immunodeficiency may also give rise to safety concerns due to unconstrained infection in non-target tissues [36]. A number of practical concerns have also curtailed their rapid development and the study of combination strategies may be impacted by the lack of OVs that have been approved for clinical practice. Technical and logistical challenges also exist that have limited the clinical evaluation of these agents outside of large academic centres.
CAR T-cell immunotherapy: the story so far
Immunotherapy using CAR-engineered T-cells is undoubtedly one of the most innovative therapeutic strategies to have emerged among those that either co-opt or augment an individual's capacity to mount an effective immune response against cancer. Chimeric antigen receptors are recombinant cell surface fusion molecules that couple the binding of a native tumour-specific or tumour-associated cell surface antigens (TSAs or TAAs) to the delivery of a bespoke T-cell-activating signal [
37
,
38
]. CAR T-cells have proved efficacious in the management of patients with haematological malignancies and, in parallel with T-cell receptor (TCR)-gene modified antigen-specific T-cells, are currently being evaluated in patients with a variety of solid tumours. CAR T-cell therapy provides a number of advantages over TIL or TCR-engineered ACT. Firstly, CAR T-cells bypass the requirement for peptide processing, HLA expression and antigen presentation by cancer cells [
37
]. Given that the loss of MHC class I expression and the downregulation of proteasomal antigen processing are recognised as mechanisms of acquired resistance to cancer immunotherapy with immune checkpoint blockade [
39
] or standard ACT, this ability by CARs to circumvent the machinery of antigen presentation becomes particularly attractive. As a result, CAR T-cells can recognise antigen on any human leukocyte antigen (HLA) background, in contrast to TCRs which must be matched to a patient's HLA haplotype [
40
]. Chimeric antigen receptors can also target non-protein TAAs such as carbohydrate or glycolipid structures [
37
]. Unlike TCRs however, they are limited to targeting cell surface rather than cytoplasmic or nuclear TAAs [
40
]. Whilst this does, to some extent, limit the potential repertoire of CAR targets, our increasing understanding of the "surfaceome" of both tumours and normal tissue is now providing a plethora of targets [
41
]. A number of these targets are currently being explored in early phase clinical trials and are summarised in Table
2
. The ability to genetically engineer T-cells lends itself to limitless customisation and adaptation. In concert with the development of novel sensing and CAR-control technologies, this has the potential to inform the development of logic-gated stimulatory and inhibitory CAR circuits for the algorithmic targeting of tumours [
42
].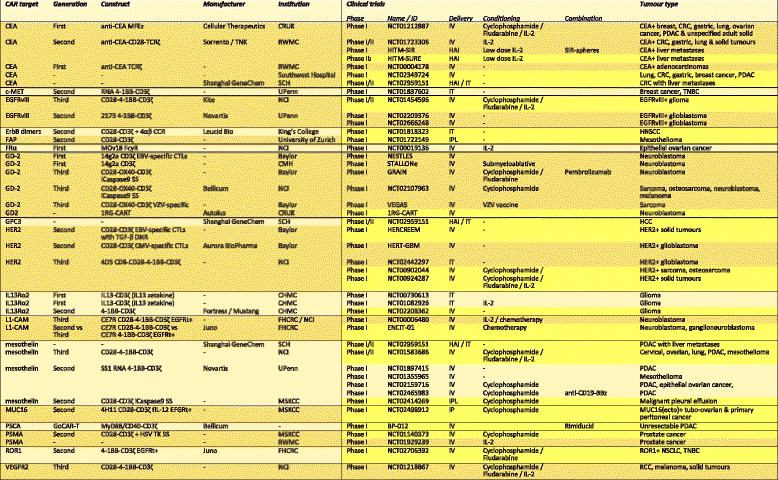 The design of CARs has undergone several iterative steps since their original description in 1989 by Eshhar and colleagues [
43
]. First generation CARs (termed "T-bodies") incorporated an antigen-binding domain, such as an antibody-derived single chain variable fragment (scFv) or endogenous receptor ligand coupled to a CD8, CD4, CD25 or CD16 transmembrane domain and a CD3ζ or Fc receptor γ intracellular domain. Antigen engagement by the CAR induces the formation of an immune synapse with subsequent downstream signalling through a cascade of TCR-associated kinases. Ultimately, this leads to the transfer of cell-lysis inducing molecules (such as perforin and granzyme B) into the target cell, causing cytotoxicity as well as the secretion by the CAR T-cell of immunostimulatory cytokines that facilitate T-cell proliferation and activation in an autocrine and paracrine fashion [
37
]. However, first generation CAR T-cells failed to elicit a robust cytokine response with repeated antigen exposure and were susceptible to rapid onset of anergy [
44
]. Second generation CARs express both activating and co-stimulatory intracellular domains in cis and induce signalling that more closely mimics that of physiological TCR. In these receptors, a CD3ζ chain is fused to the cytoplasmic domain of a co-stimulatory receptor such as CD28, 4-1BB, OX40, ICOS or DAP10. Third generation CARs which are yet to demonstrate a clear improvement in efficacy incorporate three or more signalling domains e.g. CD28 and 4-1BB or CD28 and OX40, together with a source of signal 1 such as CD3ζ [
45
]. These CAR constructs are illustrated in Fig.
1
.

Second generation CARs have demonstrated significant anti-cancer potency in pre-clinical and clinical models. On 30th August 2017 the United States Food and Drug Administration (FDA) approved the use of tisagenlecleucel (CTL019), a CD19-directed CAR T-cell product, for the treatment of patients up to 25 years of age with B-cell precursor ALL that is refractory or in second or later relapse. Approval was based on a number of early phase clinical trials including the pivotal single-arm, open-label, multicentre phase II ELIANA trial, which demonstrated that 83% of patients achieved complete remission (CR) or CR with incomplete blood count recovery within 3 months of treatment [46]. This agent, alongside other CAR products, has also been found to have considerable efficacy in other haematological malignancies such as chronic lymphocytic leukaemia (CLL) and lymphoma. Interim analysis presented at the International Conference on Malignant Lymphoma (ICML) meeting in Lugano, Switzerland, of the phase II JULIET trial evaluating tisagenlecleucel in adult patients with relapsed or refractory diffuse large B-cell lymphoma (DLBCL) revealed a 3 month overall response rate (ORR) of 45% with 37% achieving a complete response (CR) [47]. Results from the primary analysis of the phase II ZUMA-1 trial evaluating KTE-C19 (axicabtagene ciloleucel or axi-cel) in adult patients with relapsed or refractory DLBCL, primary mediastinal B cell lymphoma (PMBCL) or transformed follicular lymphoma were also presented at ICML. Treatment with axicabtagene ciloleucel was associated with an ORR of 82% with 39% in CR at a median follow-up of 8.7 months, a rate 7-fold higher compared to historical controls [48]. Furthermore, CAR T-cells with a central memory or stem-like phenotype can persist and remain efficacious for prolonged periods of time [49], as demonstrated in patients with durable remissions and B-cell aplasia following CD19-directed CAR T-cell therapy at a number of institutions such as the University of Pennsylvania [50, 51], Memorial Sloan-Kettering Cancer Centre [52, 53] and the National Cancer Institute [54, 55].
Whilst CAR T-cell immunotherapy has proved to be highly efficacious in patients with B-cell malignancies, this has not yet been reproduced in patients with solid tumours, which present several additional obstacles to success. These include: (i) a greater risk of unacceptable toxicity (due to potential for "on target off tumour" effects, caused by targeting TAAs expressed in multiple tissues) [56]; (ii) paucity of "dispensable antigens" expressed by solid tumours, unlike CD19+ B-cells [57]; (iii) poor trafficking of CAR T-cells into the TME [57] and (iv) impaired CAR T-cell effector function within the TME [58]. Another problem relates to the inherent heterogeneity of solid tumours, both temporally and spatially. Such variability is liable to result in incomplete tumour targeting by CARs and acquired resistance due to antigen loss [44]. In addition, the diversity of TAAs in solid tumours and distinct subtypes necessitates the design of suitably selective CARs for each disease entity.
The safety of CAR T-cell ACT remains a particular concern. Unfortunately, a number of clinical trials investigating CAR T-cell therapy have been marred by reports of fatalities due to severe cytokine release syndrome (CRS), macrophage activation syndrome (MAS) or neurotoxicity [59]. The latter, in particular, is poorly understood and has sometimes proved resistant to prevention or treatment with supportive strategies. There are also theoretical fears of insertional mutagenesis and the development of T-cell malignancy due to the use of integrating viral vectors, particularly those that exhibit powerful enhancer function [60].
The potential to cause "on target off tumour" toxicity is particularly pertinent to the design of CARs targeting TAAs expressed by solid tumours. This danger was highlighted by the death of a patient in a phase I first in-man clinical trial evaluating a third generation anti-HER2 CD28-4-1BB-CD3ζ CAR. In the aftermath of this case it was postulated that these potent HER2-directed CAR T-cells were able to recognise physiological low level HER2 protein expressed in normal lung tissue during their first pass passage through the pulmonary vasculature, leading to an inflammatory cytokine cascade, pulmonary toxicity and ultimately multi-organ failure [61]. More recently, numerous techniques have been explored to mitigate this risk and CAR products are currently in clinical development that incorporate inducible safety switches that can be triggered at will. Alongside the well-characterised herpes simplex virus-thymidine kinase (HSV-TK) / ganciclovir suicide gene system, CAR T-cells have been engineered to express an inducible caspase 9 gene (CaspaCIDe®) that induces apoptosis in the presence of rimiducid, a lipid-permeable tacrolimus analogue with homodimerizing activity [62]. An alternative strategy is to co-express a truncated cell surface protein, such as human epidermal growth factor (EGFR) that can be targeted by a pharmaceutical-grade monoclonal antibody, such as Cetuximab, leading to antibody-dependent cellular cytotoxicity [63].
In parallel, attempts have also been made to render CAR T-cell activation dependent upon the presence of an exogenously administered compound that is able to interact either with the CAR's extracellular or intracellular domains. In the case of the GoCAR-T system, CAR T-cell proliferation, activity and cytotoxicity requires both TAA target binding as well as the presence of rimiducid, which facilitates homodimerization of an inducible chimeric MyD88/CD40 co-stimulatory domain [64]. The UniCAR modular system, on the other hand, incorporates a physiologically silent CAR that is activated in the presence of specific targeting modules. UniCAR T-cells may therefore be controlled more precisely in a time- and target-dependent fashion [65].
Finally, due to the requirement for use of intensive lymphodepleting conditioning regimens to facilitate CAR T-cell expansion, careful patient selection is required and currently the treatment remains suitable only for suitably fit patients without significant co-morbidity. Technical challenges and safety issues limit access to this approach outside of an academic centre experienced in the delivery of autologous haematopoietic transplantation. Furthermore, production of CAR T-cells is costly and time consuming due to the need to harvest, genetically engineer and expand autologous CAR T-cells ex vivo using cleanroom facilities. However, these issues may be addressed by centralised large-scale manufacturing, improved automation and a modular, integrated and scalable supply chain [66, 67]. Indeed batch manufacturing of Kite Pharma's CD19-directed autologous CAR T-cell product axicabtagene ciloleucel can now be performed in just 6 days with a 2 week vein-to-vein turnaround time [68]. Following FDA approval of its CD19-directed CAR product tisagenlecleucel, Novartis have issued a price of US $475,000 per patient [69], which takes into account both the high manufacturing costs as well as the long-term benefits to young patients who would otherwise face costly bone marrow transplants, protracted hospital admissions and poor survival outcomes.
Attributes of oncolytic virotherapy favourable to combined use with CAR T-cell therapy
The activation of pathogen or tumour-targeting CD8+ T-cells is dependent upon the presence of three classical signals: TCR engagement (signal 1), co-stimulation (signal 2) and an inflammatory stimulus (signal 3). Signal 3 is typically driven by cytokines such as interleukin (IL)-12 or type I IFNs [70]. Engagement of TAAs by second or third generation CARs provide engineered T-cells with signals 1 and 2. Whilst ex vivo activation of CAR T-cells by exposure to CD3/CD28 antibodies may recapitulate physiological signal 3 prior to administration, it remains unclear whether this signal remains present when T-cells enter the microenvironment of solid tumours and, if so, for what duration [71]. It is well recognised that type I IFNs can mediate anti-viral and anti-tumour responses by promoting viral eradication and limiting cellular proliferation, at least partly through a stimulatory effect on the host adaptive immune system. More specifically, type I IFNs support the proliferation, clonal expansion, effector function and/or memory formation of CD8+ T-cells [72]. Furthermore, IFNβ is also known to enhance cross-priming activity of dendritic cells (DCs), inhibit regulatory T-cell (Treg) activation and proliferation and disrupt the tumour microvasculature [73]. It is now recognised that OVs are capable of inducing an enhanced type I IFN signature in the TME. In concert with secondary enhanced DC and T-cell effector function and reduced regulatory T-cell (Treg) and myeloid-derived suppressor cell (MDSC)-induced immunosuppression, the immunophenotype of established tumours may thereby be converted from a so-called "cold" to a "hot" state that is permissive for CAR T-cell entry, expansion and efficacy [74].
Furthermore, studies of 4-1BB-containing second generation CARs have highlighted the potential importance of autocrine (and likely paracrine) feedback signalling via the secretion of IFNβ by the CAR T-cells themselves, reinforcing the importance of type I IFN signalling for effector T-cell function. It has been posited that the mechanism of type I IFN gene induction within CAR T-cells may occur via 4-1BB signalling through its activation of TNF receptor-associated factor 2 (TRAF2) [73]. CAR T-cells with enhanced 4-1BB signalling via 4-1BB-containing CARs or chimeric co-stimulatory receptors (CCRs) may therefore be particularly sensitive to type I IFN signalling within the TME and may prove particularly synergistic with OVs. Due to the complex modulation of effector T-cell function within the TME, signal 3 manipulation ex vivo is likely to have a profound and crucial influence on CAR T-cell behaviour in vivo [71].
As described, OV infection and subsequent immunogenic cell death of cancer cells has been demonstrated to induce systemic innate and tumour-specific adaptive immune responses that impact upon T-cell trafficking and effector function within the TME (Fig.
2
). Release of tumour neo-antigens and epitope spreading following OV-induced necrosis and pyroptosis of cancer cells leads to the recruitment of scavenging macrophages and Batf3
+
dendritic cells, enhanced antigen presentation and subsequent activation of antigen-specific CD4
+
and CD8
+
T-cells. These T-cells are then able to traffic into tumour sites along chemokine gradients initiated by Batf3
+
DCs in the TME [
75
]. Furthermore, OV infection can promote a permissive immunostimulatory milieu within the TME. The latter is facilitated by OV infection of cancer cells, leading to the release of viral pathogen associated molecular pattern signals (PAMPS). In turn, these trigger Toll-like receptor (TLR) activation, JAK-STAT signalling, the upregulation of viral clearance genes and local IFNα/β release [
76
]. This promotes the upregulation of MHC class I expression on cancer cells [
77
], which would be expected to be synergistic with ACT using TILs or TCR-engineered T-cells targeting specific tumour antigens such as the melanoma-associated antigen (MAGE-A) or New York oesophageal squamous cell carcinoma (NY-ESO) cancer-testis antigens. Nonetheless, CAR T-cells (which function independently of antigen presentation) would also benefit since their recruitment into the TME remains dependent upon chemokine signalling. Tumours with dysregulated MHC class I expression (e.g. due to acquired or intrinsic mutations in genes encoding β2-microglobulin or members of the JAK-STAT-IFNγ signalling pathway) [
39
] may be better targeted by CARs rather than engineered TCRs in conjunction with OVs.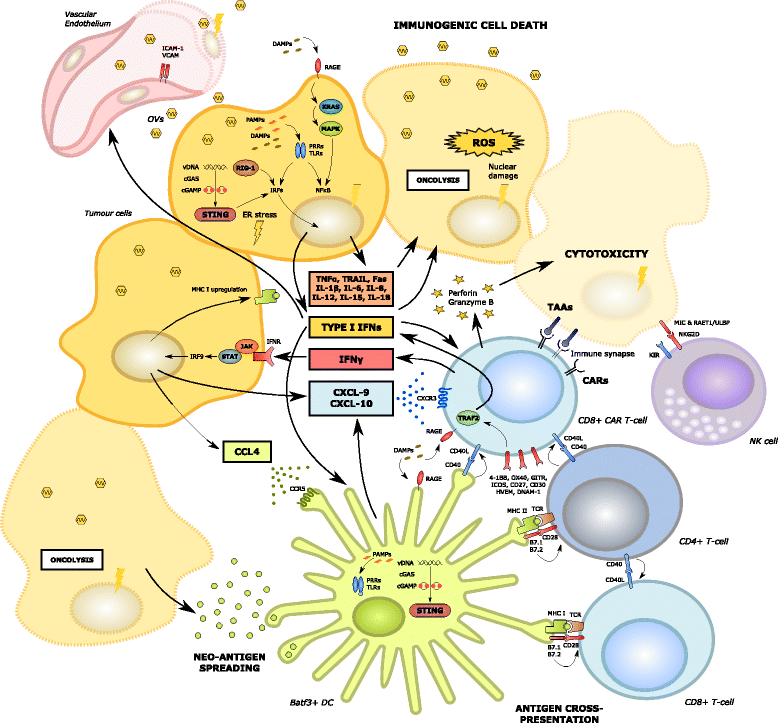 Viral-induced oncolysis also induces local release into the extracellular environment of cellular danger associated molecular pattern signals (DAMPS) [78, 79] such as heat shock proteins, HMGB1, ATP, calreticulin and uric acid, as well as cytokines stimulatory of DCs and effector T-cells, including CAR T-cells, such as type I IFNs, tumour necrosis factor-alpha (TNFα), IFNγ, IL-12 and IL-15. HMGB1, in particular, can enhance T-cell activation and expansion within the TME via interaction with the T-cell Receptor for Advanced Glycation End Products (RAGE) [80, 81].
Furthermore, it has recently been demonstrated that the interaction of DNA OVs with the innate immune system's cGAS-cGAMP-STING (Stimulator of Interferon Genes) cytosolic DNA sensing and signalling pathway may potentiate anti-cancer adaptive T-cell responses by inducing type I IFN gene transcription, DC activation and T-cell priming [82]. Type I IFN signalling is commonly disrupted in many different types of cancer and an important mechanism underlying this appears to be STING hypofunction, caused for example by inactivating mutations within tumours. This is emerging as a putative mechanism of intrinsic or acquired resistance to a number of immunotherapeutic modalities such as immune checkpoint blockade. Intriguingly however, STING-inactivated tumours have proven susceptible to DNA OV infection due to disruption of type I IFN signalling pathways [83]. In this setting, OV infection can induce sustained anti-cancer responses, implying that this may occur via mechanisms independent of intact type I IFN signalling or that OV infection may recapitulate IFN-regulated gene expression in these tumours. This suggests that combination OV and CAR T-cell therapy may be particularly efficacious in STING-inactivated and type I IFN disrupted tumours where OV infection may be more virulent [84] and the TME may otherwise prove too "cold" for ACT.
Enhancement of OV-induced type I IFN-mediated T-cell responses may be maximised by using a prime-boost approach with the sequential application of serologically distinct OVs [85]. In such a paradigm, it is posited that the adaptive immune response elicited by a second OV may be potentiated by the host immune response to the first OV, whilst simultaneously mitigating the potential immunodominance of specific viral antigens that may limit the development of robust anti-tumoural responses. Such an approach may provide even greater synergistic potential when combined with ACT and CAR T-cell therapy.
The capacity of OVs to facilitate the effects of TAA-specific ACT is illustrated in a chicken ovalbumin (OVA)-expressing murine melanoma model whereby intra-tumoural injection of an adenoviral OV could overcome resistance to the intra-peritoneal transfer of polyclonally activated OVA-specific CD8+ T-cells [86]. Adenoviral injection led to a local increase in pro-inflammatory cytokines, CD45+ leukocytes, CD8+ lymphocytes and F4/80+ macrophages as well as the induction of co-stimulatory signals on CD11c+ antigen presenting cells (APCs). As a result, T-cell activation occurred, which was accompanied by epitope spreading (evidenced by increases in CD8+ T-cells specific for the endogenous tumour antigens TRP-2 and gp100) and inhibition of tumour-induced peripheral tolerance.
Greater synergy may be achieved by combining adaptive anti-viral immunity with TAA-retargeted CAR T-cell therapy. To explore whether the former could enhance the efficacy and persistence of the latter, Epstein Barr virus (EBV)-specific T-cells were transduced with a first generation anti-GD2-CD3ζ CAR and compared with polyclonal redirected CAR T-cells in a phase I neuroblastoma study. Virus-specific CAR T-cells not only expanded more vigorously but were found to be more persistent in the short-term, being detectable by polymerase chain reaction (PCR) in patients 6 weeks following administration versus only 3 weeks in the polyclonal CAR T-cell treated cohort [87]. Building upon this approach, a further novel strategy may be to use OV vaccination prior to peripheral blood collection, T-cell selection and transduction with CARs targeting solid tumour antigens. Using this strategy researchers from Baylor College of Medicine stimulated peripheral blood mononuclear cells (PBMCs) obtained from patients who had received intratumoral JX-594, a recombinant vaccinia OV, with overlapping peptide libraries spanning the sequences of 6 vaccinia antigens. These were then transduced with a HER2-targeting CAR product and expanded. CAR T-cells specific for these viral antigens could secrete IFNγ in response to stimulation with vaccinia virus (VV) peptides in intracellular cytokine assays, suggesting that the efficacy of CAR T-cells primed to recognise OV antigens may be enhanced when used in conjunction with an OV vaccination schedule [88].
Potential approaches to combine oncolytic virotherapy with CAR T-cell immunotherapy
The flexibility of recombinant genetic engineering has led to a renaissance in the field of oncolytic virotherapy. A plethora of modified OVs are currently undergoing pre-clinical and clinical investigation, combining the favoured characteristics of impaired pathogenicity / virulence with enhanced oncolytic and/or immunostimulatory potential. Through precise editing of the viral genome, the oncotropic nature of these agents has been further enhanced. Similarly, such an approach may be used to develop experimental gene therapies that deliver a predefined therapeutic payload to the tumour, such as one or more pro-apoptotic proteins or immunogenic co-stimulatory surface molecules. Furthermore, the infection of tumours by oncolytic viruses has the potential to convert cancer cells into cytokine and chemokine factories, thereby converting the TME from an immunosuppressive to an immunostimulatory milieu that is permissive to T-cell entry and activation. This potential creates opportunities to develop exciting synergies with other immunotherapeutic modalities, including ACT and CAR T-cell therapy. In the paragraphs that follow, some examples of how engineered OV may be combined with CAR T-cells are considered. A summary of these strategies is illustrated in Fig.
3
.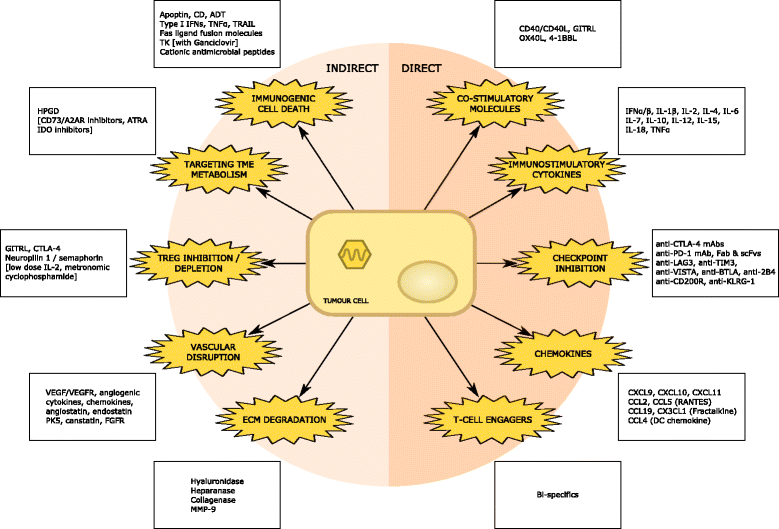 Conclusions, outstanding questions and potential future strategies
The number of potential strategies to fruitfully combine OV and CAR T-cell immunotherapy are legion. Due to the complexity of OV and immune cell inter-relationships, optimal synergy between these two immunotherapeutic modalities is unlikely to benefit from the optimisation of each arm independently. Oncolytic virus infection, for example, may be forestalled by the injudicious adaptation of CAR T-cells able to elicit potent anti-viral effects. Likewise, CAR T-cell function is unlikely to be enhanced in a synergistic fashion by using an OV with improved oncolytic function mediated by apoptotic, rather than immunogenic cell death. Instead, a more considered systems-based approach is likely to be more profitable when combining OVs with solid tumour-redirected CAR T-cells. Considerable work is required to counteract the immunosuppressive milieu within many solid tumours, which is both non-permissive to CAR T-cell entry and non-conducive to CAR T-cell expansion and anti-tumour effector function. It remains to be seen whether sufficiently potent and selective OVs can be designed to negate these barriers to effective CAR T-cell therapy in future clinical trials.
Given the plethora of OV families and strains currently under investigation, it is unclear which OV subtypes will prove most conducive to synergistic combination with individual CAR T-cell products. In view of the great diversity of tumour-tropism, specificity, transgene carriage capacity and impact upon host innate and adaptive immune responses it is likely that individual OVs will be selected for their particular attributes and ability to counteract the specific problems encountered by each specific CAR T-cell strategy. With the FDA's recent approval of tisagenlecleucel for children and young adults with ALL, it is intriguing to consider whether CAR and OV synergism could be evaluated in haematological malignancy, thus potentially accelerating proof of principle. Certainly, a number of OVs (such as parvovirus and NDV) have been evaluated in preclinical models of leukaemia, lymphoma and myeloma [220, 221]. The local induction of innate immunity following OV infection coupled with the potential to enhance CAR T-cell homing and effector function by inserting specific transgenes into the OV genome may be expected to yield improved results with CD19-directed CAR T-cells. However, the considerable single agent efficacy of the latter in this setting would suggest that the bar to demonstrating effective synergism may be significantly higher than in solid tumours.
Several questions remain regarding the optimal combination of OVs and CAR T-cell ACT. Will optimal administration of OVs (and indeed CAR T-cells) be achieved by local intra-tumoural injection or by systemic parenteral delivery? Which CAR intracellular domain/construct may be most conducive to synergy with specific OVs? Which tumours are likely to be optimal targets for synergistic combination? Will the optimal combined use of (engineered) OV differ in the treatment of "hot" (inflamed) as opposed to "cold" non-inflamed tumours? Other questions relate to the optimal disease setting within which such experimental approaches could eventually be deployed. Whilst advanced cancer has proven to be more resistant, early stage disease (such as localised breast cancer, which is commonly cured with a combination of surgery, radiotherapy and hormone therapy) remains challenging to treat using cellular therapies, due to the requirement for highly toxic lymphodepleting conditioning (often incorporating cyclophosphamide with fludarabine) with or without the administration of systemic cytokines such as IL-2. There is indirect evidence, however, that OV infection may obviate the need for such pre-conditioning and intra-tumoural delivery of OVs and CAR T-cells would be expected to permit the treatment of early stage disease in a more controlled and less toxic manner. Alternatively, there may be a particular role for the synergistic combination of OVs and CAR T-cell therapy in patients who have progressed following immune checkpoint blockade. Review of patients who have responded to anti-CTLA-4 and/or anti-PD-1/PD-L1 axis blockade over many years has yielded valuable data about the mechanisms of acquired resistance [42]. As a final consideration, OV infection may prove to be more efficacious in tumours with an acquired impairment of IFNγ signalling (e.g. through mutation of the JAK-STAT pathway), whereas CAR T-cell therapy may provide a more attractive option for patients whose tumours have lost MHC class I expression (e.g. due to β2-microglobulin mutations). Certainly, the rapid technical advancement and falling cost of developing genetically engineered biotherapies heralds the imminent arrival of individualised cellular and viral products for the treatment of cancer.
Conclusions
The potential for combining OVs, CAR T-cell therapy and an additional immunotherapeutic strategy are practically limitless. Furthermore, due to the broad applicability of these techniques the ability to synergistically combine OVs with TCR-engineered ACT (e.g. targeting cancer testis antigens such as NY-ESO-1) may also be considered. Triplet or quadruplet combinations may be envisaged using systemically delivered immune checkpoint inhibitors and/or co-stimulatory agonists, or indeed other immunomodulatory agents such as IDO inhibitors, TLR or STING agonists, Smac mimetics, A2R antagonists, anti-angiogenic agents or even novel DGK and SHP-1 inhibitors. The timing and scheduling of these combination strategies is likely to be crucial. For example, studies have shown that administering an anti-CTLA-4 mAb on the same day as delivering a vaccinia OV can impair efficacy of the latter, presumably due to an enhanced anti-viral effect. Such combinations are also likely to be dependent upon the family and strain of the OV used, and indeed the synergistic combination of an anti-CTLA-4 mAb was found to be strain specific [222]. In short, the future is likely to yield a rich seam of translational and clinical research in which these two exciting technologies are combined to tackle the pressing need for improved treatments for patients with advanced solid tumours.
Abbreviations
5-FU:

5-fluorouracil
A2AR:

Adenosine A2a receptor
ACT:

Adoptive cell transfer
ADP:

Adenovirus death protein
ALL:

Acute lymphoblastic leukaemia
AMP:

Adenosine monophosphate
ATP:

Adenosine triphosphate
ATRA:

All-trans retinoic acid
BCL:

B-cell lymphoma
BiTE:

Bispecific T-cell engager
CAF:

Cancer-associated fibroblast
CAR:

Chimeric antigen receptor
CCL:

C-C Motif Chemokine Ligand
CCR:

Co-stimulatory receptor
CD:

Cytosine deaminase
CD40L:

CD40 ligand
CIK:

Cytokine induced killer
CLL:

Chronic lymphocytic leukaemia
CMP:

Cationic antimicrobial peptide
CMS:

Consensus molecular subtype
COX:

Cyclooxygenase
CRS:

Cytokine release syndrome
CTLA-4:

Cytotoxic T lymphocyte antigen 4
CXCL:

C-X-C motif chemokine ligand
DAMPS:

Danger associated molecular pattern signals
DC:

Dendritic cell
DGK:

Diacylglycerol kinase
EBV:

Epstein Barr virus
EEV:

Extracellular enveloped virus
EGFR:

Epidermal growth factor receptor
EMT:

Epithelial-mesenchymal transition
FGF:

Fibroblast growth factor
FGFR:

Fibroblast growth factor receptor
GITR:

Glucocorticoid-induced TNFR-related protein
GM-CSF:

Granulocyte macrophage colony-stimulating factor
HLA:

Human leukocyte antigen
HMGB1:

High-mobility group box 1
HN:

Hemagglutinin-neuraminidase
HPGD:

Prostaglandin dehydrogenase
HSV-1:

Human herpes simplex type I virus
ICAM-1:

Intercellular adhesion molecule 1
IDO:

Indoleamine 2,3-dioxygenase
IFN:

Interferon
IL:

Interleukin
LFA:

Lymphocyte function-associated antigen
mAb:

monoclonal antibody
MAGE-A:

Melanoma-associated antigen
MDSC:

Myeloid-derived suppressor cell
MHC:

Major histocompatibility complex
MMP:

Matrix metalloproteinase
MPM:

Malignant pleural mesothelioma
NCI:

National Cancer Institute
NDV:

Newcastle disease virus
NK:

Natural killer
NPC:

Nasopharyngeal carcinoma
NSG:

NOD SCID γcnull
NY-ESO:

New York oesophageal squamous cell carcinoma
OV:

Oncolytic virus
PAMPS:

Pathogen associated molecular pattern signals
PBMC:

Peripheral blood mononuclear cell
PCR:

Polymerase chain reaction
PD-1:

Programmed cell death protein 1
PDAC:

Pancreatic ductal adenocarcinoma
pegPH20:

pegylated recombinant human hyaluronidase
PGE2:

Prostaglandin E2
PKA:

Protein kinase A
PKR:

Protein kinase R
RAGE:

Receptor for Advanced Glycation End Products
RANTES:

Regulated on activation, normal T cell expressed and secreted
RIAD:

Regulatory subunit I anchoring disruptor
scFv:

single chain variable fragment
shRNA:

short hairpin RNA
siRNA:

small interfering ribonucleic acid
SMC:

Smac mimetic compound
STING:

Stimulator of Interferon Genes
TAA:

Tumour-associated cell surface antigen
TAM:

Tumour-associated macrophages
TAP:

Transporter associated with antigen processing and presentation
TBK:

TANK-binding kinase
TCR:

T-cell receptor
TDO:

Tryptophan 2,3-dioxygenase
TGF-β:

Transforming growth factor beta
TIL:

Tumour infiltrating lymphocyte
TK:

Thymidine kinase
TLR:

Toll-like receptor
TME:

Tumour microenvironment
TNFα:

Tumour necrosis factor-alpha
TRAF:

TNF receptor-associated factor
TRAIL:

TNF-related apoptosis-inducing ligand
Treg:

Regulatory T-cell
TSA:

Tumour-specific cell surface antigen
T-VEC:

Talimogene laherparepvec
VEGF:

Vascular endothelial growth factor
VSV:

Vesicular stomatitis virus
VV:

Vaccinia virus
vvDD:

Double-deleted vaccinia virus
WR:

Western Reserve
Declarations
Acknowledgements
Not applicable.
Funding
AA is supported by the Medical Research Council. Research in JM's laboratory is supported by the Medical Research Council, Cancer Research UK, Bayer HealthCare, Bloodwise, British Lung Foundation, Breast Cancer Now, the King's Health Partners Research and Development Fund, British Council Newton Fund Institutional Links Award, the Experimental Cancer Medicine Centre at King's College London, the Cancer Research UK Centre at King's Health Partners and by the National Institute for Health Research (NIHR) Biomedical Research Centre based at Guy's and St Thomas' NHS Foundation Trust and King's College London. The views expressed are those of the authors and not necessarily those of the NHS, the NIHR or the Department of Health.
Availability of data and materials
Not applicable.
Authors' contributions
Both authors wrote the manuscript. Both authors read and approved the final manuscript.
Ethics approval and consent to participate
Not applicable.
Consent for publication
Not applicable.
Competing interests
JM is chief scientific officer of Leucid Bio, a spinout company focussed on CAR T-cell and gamma delta T-cell immunotherapies for malignant disease. AA does not have any conflicts of interest to declare.
Publisher's Note
Springer Nature remains neutral with regard to jurisdictional claims in published maps and institutional affiliations.
Open AccessThis article is distributed under the terms of the Creative Commons Attribution 4.0 International License (http://creativecommons.org/licenses/by/4.0/), which permits unrestricted use, distribution, and reproduction in any medium, provided you give appropriate credit to the original author(s) and the source, provide a link to the Creative Commons license, and indicate if changes were made. The Creative Commons Public Domain Dedication waiver (http://creativecommons.org/publicdomain/zero/1.0/) applies to the data made available in this article, unless otherwise stated.
Authors' Affiliations
(1)
Department of Oncology, Royal Free London NHS Foundation Trust, London, UK
(2)
King's College London, CAR Mechanics Group, School of Cancer and Pharmaceutical Sciences, Guy's Hospital Campus, London, UK
(3)
Department of Clinical Immunology and Allergy, King's College Hospital NHS Foundation Trust, London, UK
(4)
Department of Immunology, Eastbourne Hospital, East Sussex, UK