Poster presentation

Open Access
Transcriptional regulation of IFN-λ genes in Hepatitis C virus-infected hepatocytes via IRF-3·IRF-7·NF-κB complex
Journal for ImmunoTherapy of Cancer
2014
2 (Suppl 3) :P173
Published: 6 November 2014
Interferon Regulatory Factor
Specific Transcription Factor
Concurrent Reduction
Robust Production
Respective Promoter
Hepatitis C virus (HCV) infection in hepatocytes stimulates innate antiviral responses including the production of type III interferons (IFN-λ), including IL-28A, IL-28B, and IL-29 (Figure
1
). However, the molecular mechanism(s) regulating the expression of
IFN-
λ genes in HCV-infected hepatocytes remains undefined. In this study, we examined regulatory elements involved in the induction of
IFN-
λ genes following HCV infection in hepatocytes and further determined the binding of specific transcription factor(s) to promoter regions of
IFN-
λ genes. Our studies reveal that the regulatory portion for
IL-28A, IL-28B
, and
IL-29
genes is localized to a 1-kb region in their respective promoters (Figure
2
,
4
). Notably, interferon regulatory factor (IRF)-3 and -7 are the key transcriptional factors for the induction of
IL-28A
and
IL-28B
genes (Figure
5
,
6
), whereas NF-κB is an additional requirement for the induction of the
IL-29
gene (Figure
3
). Ligation of Toll-like receptors (TLR) 3, 7, 8, and 9, which also activate IRFs and NF-κB, resulted in more robust production of IFN-λ than that observed with HCV infection, verifying the importance of TLR pathways in IFN-λ production (Figure
8
). Furthermore, the addition of IFN-λ to HCV-infected hepatocytes decreased viral replication and produced a concurrent reduction in microRNA-122 (miR-122). The decrease in viral replication was enhanced by the co-administration of IFN-λ and miR-122 inhibitor (miRIDIAN) (Figure
7
), suggesting that such combinatorial therapies may be beneficial for the treatment of chronic HCV infection.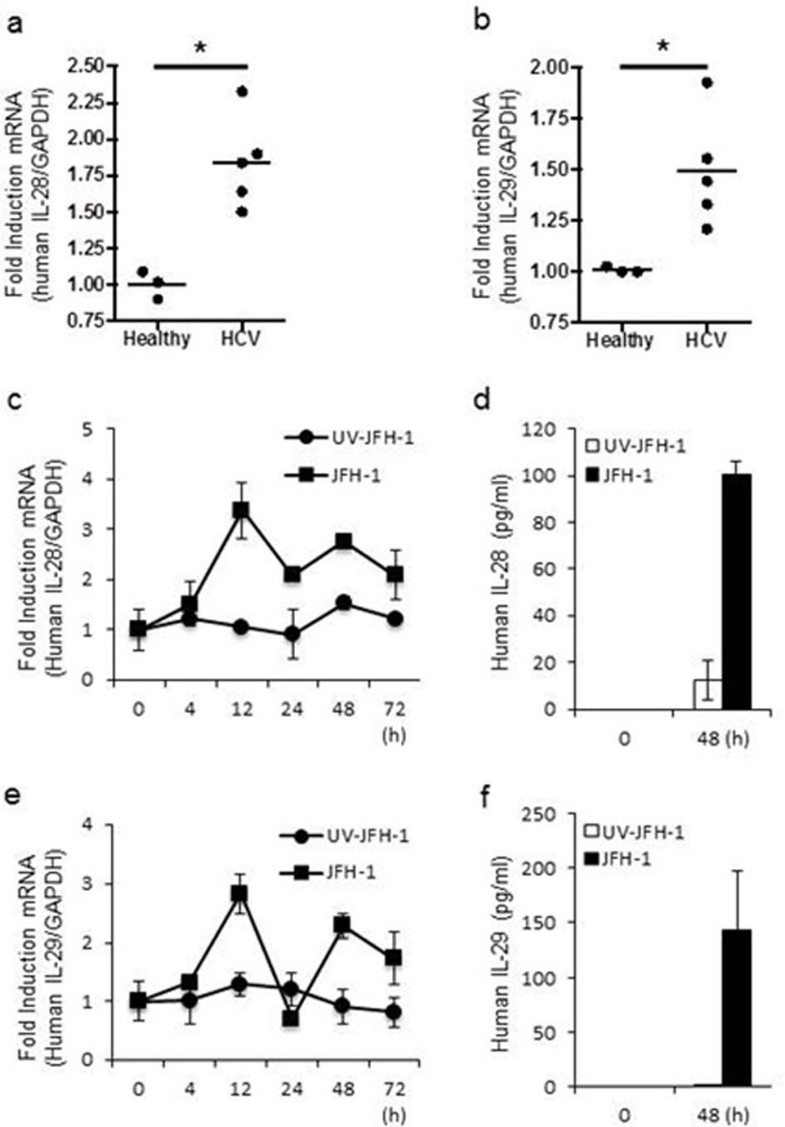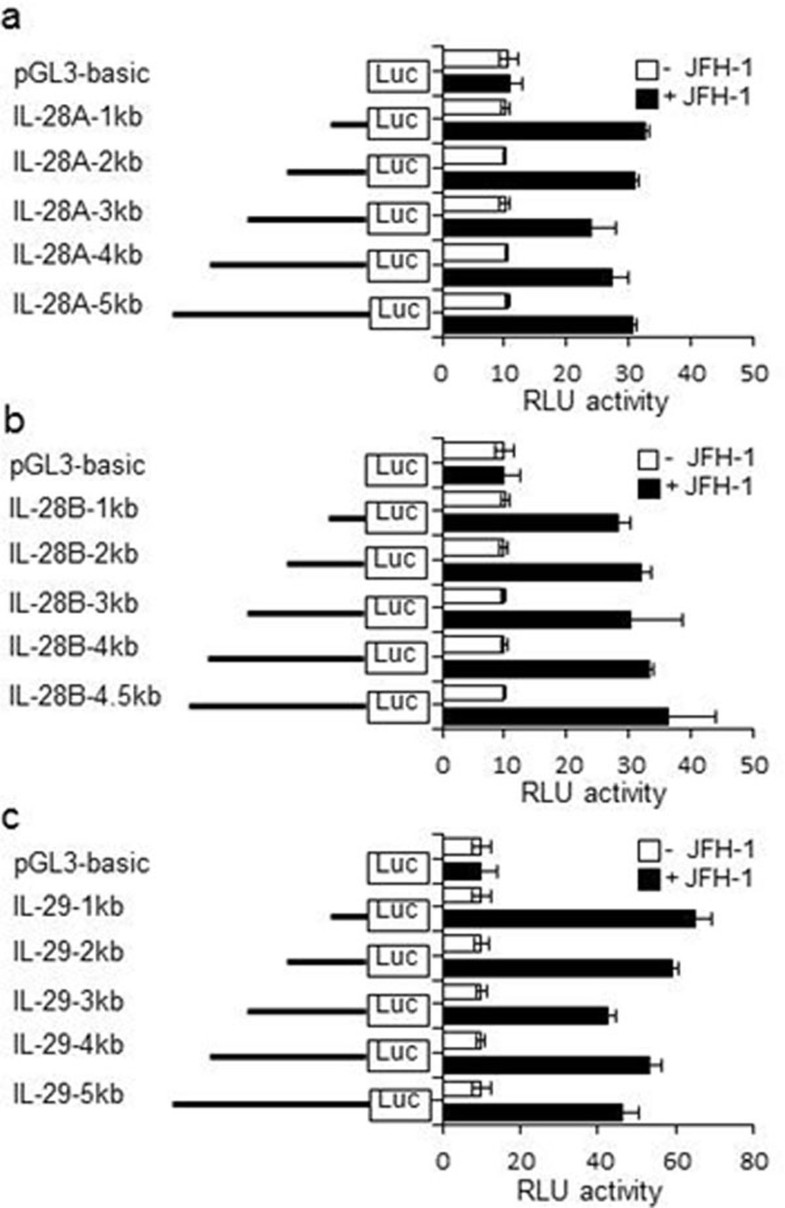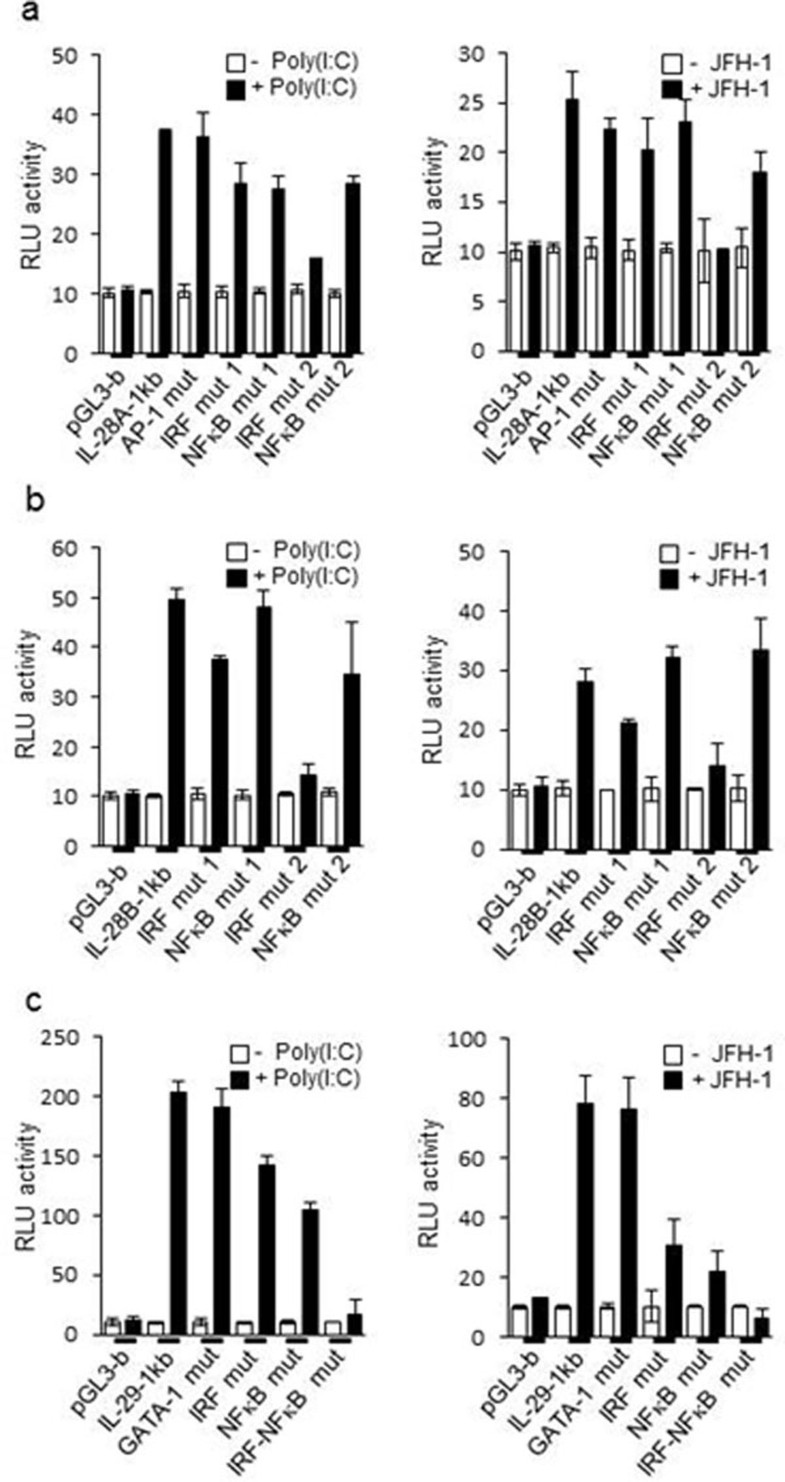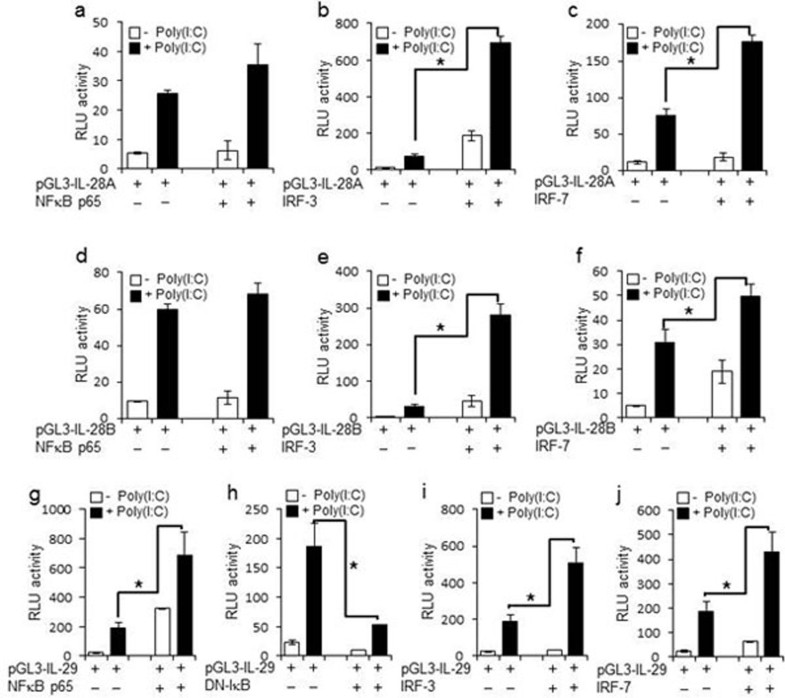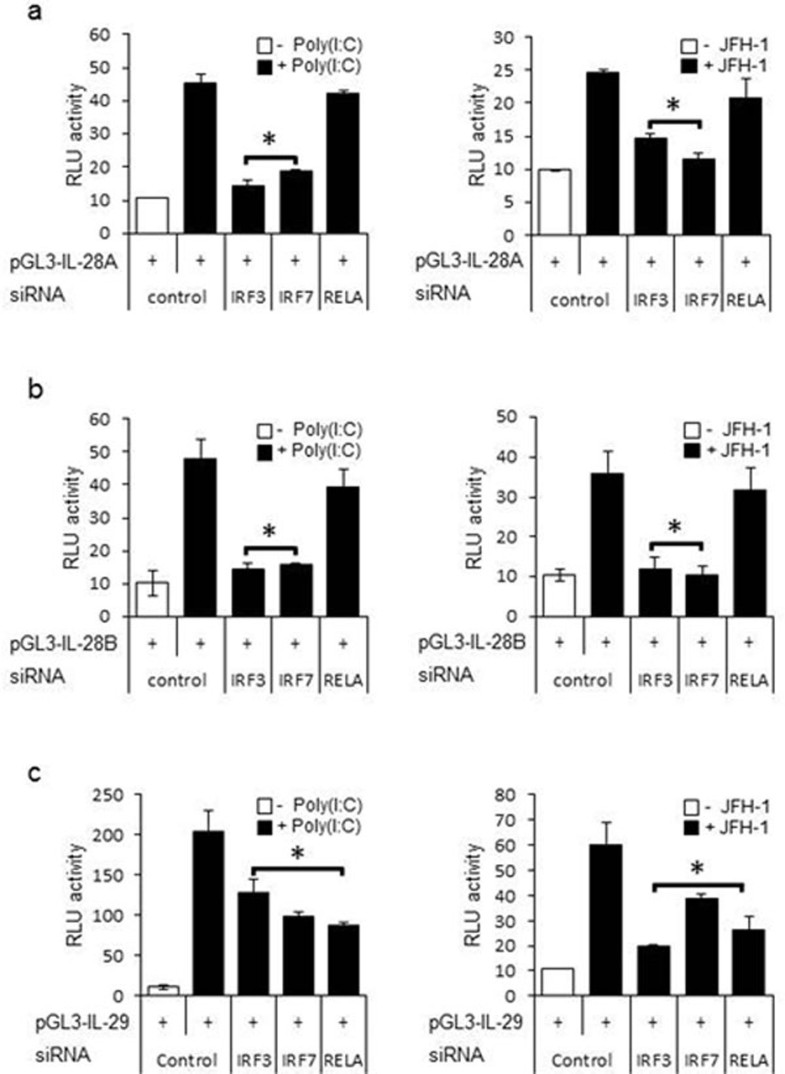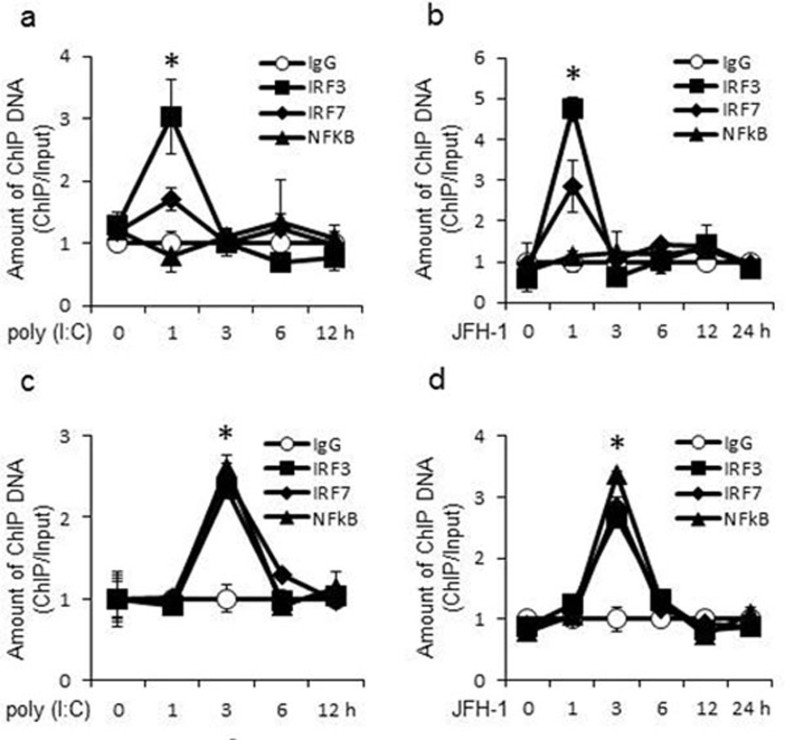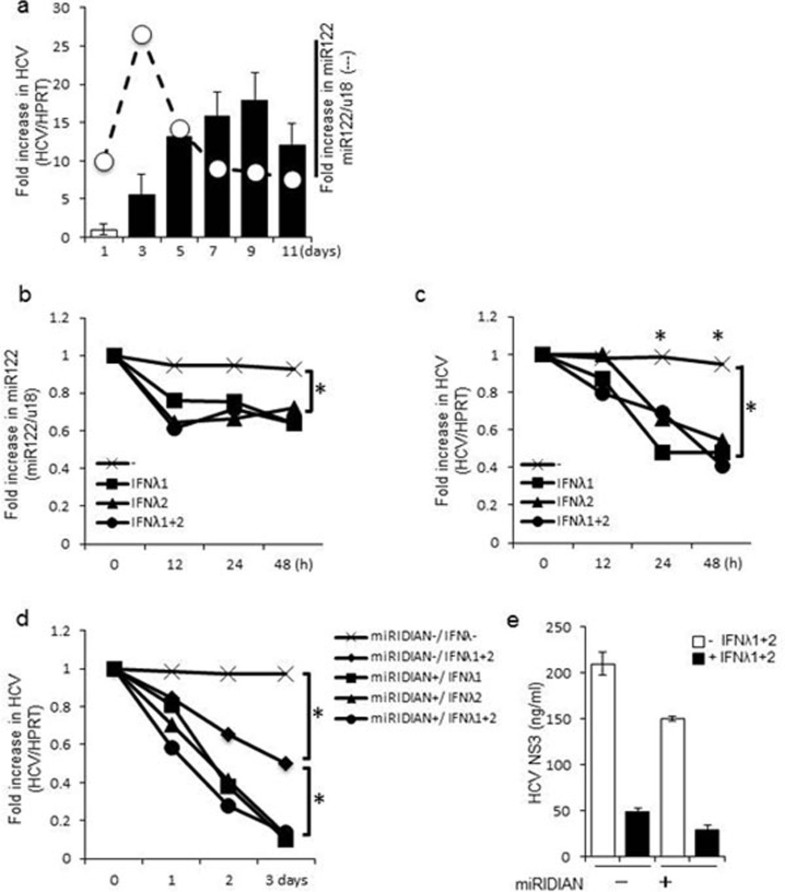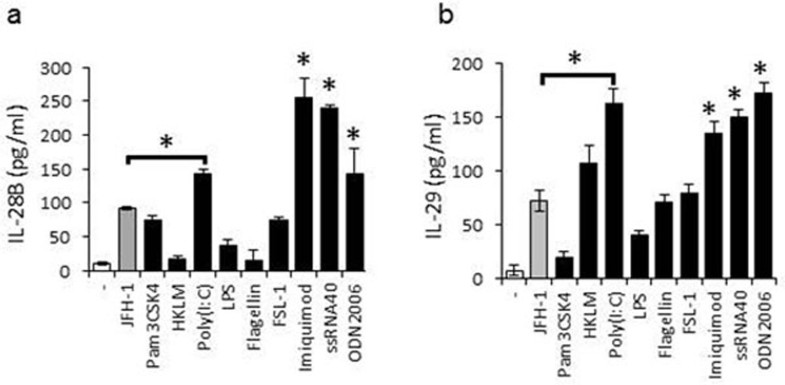 (1)
Wide River Institute of Immunology, Seoul National University, Republic of Korea
© Lee et al.; licensee BioMed Central Ltd. 2014
This article is published under license to BioMed Central Ltd. This is an Open Access article distributed under the terms of the Creative Commons Attribution License (http://creativecommons.org/licenses/by/4.0), which permits unrestricted use, distribution, and reproduction in any medium, provided the original work is properly cited. The Creative Commons Public Domain Dedication waiver (http://creativecommons.org/publicdomain/zero/1.0/) applies to the data made available in this article, unless otherwise stated.