Poster presentation

Open Access
Melanoma-derived Wnt5a conditions dendritic cells to promote regulatory T cell differentiation via the upregulation of indoleamine 2,3-dioxygenase: novel pharmacological strategies for augmenting immunotherapy efficacy
Journal for ImmunoTherapy of Cancer
2014
2 (Suppl 3) :P209
Published: 6 November 2014
Melanoma
Melanoma Progression
Tolerogenic Dendritic Cell
Treg Differentiation
Potential Pharmacologic Target
Previous studies have shown the β-catenin signaling pathway to promote the development of tolerogenic dendritic cells (DCs) that are capable of driving regulatory T cell (Treg) differentiation. Interestingly, tolerogenic DCs have recently been described to play a role in carcinogenesis. However, the molecular mechanisms underlying the establishment of immune tolerance by this DC population are poorly understood and the methods by which developing cancers can co-opt this pathway to subvert immune surveillance are unknown. Using a genetically engineered model, we demonstrate that melanoma-derived Wnt5a ligand is a novel regulator of indoleamine 2,3-dioxygenase-1 (IDO) expression in local myeloid DCs and that Wnt5a induces the durable expression and enzymatic activity of IDO via β-catenin (Figures
1
,
2
). Further, we show that Wnt5a-conditioned DCs promote Treg differentiation in an IDO-dependent manner and that melanoma secretion of Wnt5a both suppresses the generation of anti-tumor immunity and promotes melanoma progression
in vivo
(Figure
3
). By genetically silencing the PORCN acyl transferase which is necessary for Wnt ligand secretion, we confirm the role of the soluble Wnt ligands in directing DC tolerization both
in vitro
and
in vivo
while also establishing a potential pharmacologic target for manipulating this novel pathway (Figure
4
). Indeed, utilizing a small molecule inhibitor of PORCN, we are able to reverse Wnt5a-mediated IDO upregulation by DCs both
in vitro
and
in vivo
. These findings were expanded in further melanoma studies where we demonstrated small molecule PORCN inhibition to synergistically suppress melanoma progression while also enhancing anti-melanoma immunity in the setting of combination anti-CTLA-4 therapy (Figure
5
). Additional work in human melanoma confirms the existence of this Wnt5a-mediated paracrine signaling pathway in DCs and reveals by microarray dataset analysis that human melanoma co-expression of Wnt5a and FoxP3 is highly significant. These data prompted us to hypothesize that a Wnt5a-induced gene signature in the melanoma microenvironment may be indicative of immune tolerance. Indeed, we have found that a Wnt5a gene signature identified in purified sentinel lymph node-derived DCs is associated with an inferior clinical prognosis in melanoma patients. This work emphasizes the importance of DC populations in directing tumor immune surveillance and illustrates that the molecular mechanisms involved in DC physiology represent potential targets for pharmacologically enhancing anti-tumor immunity.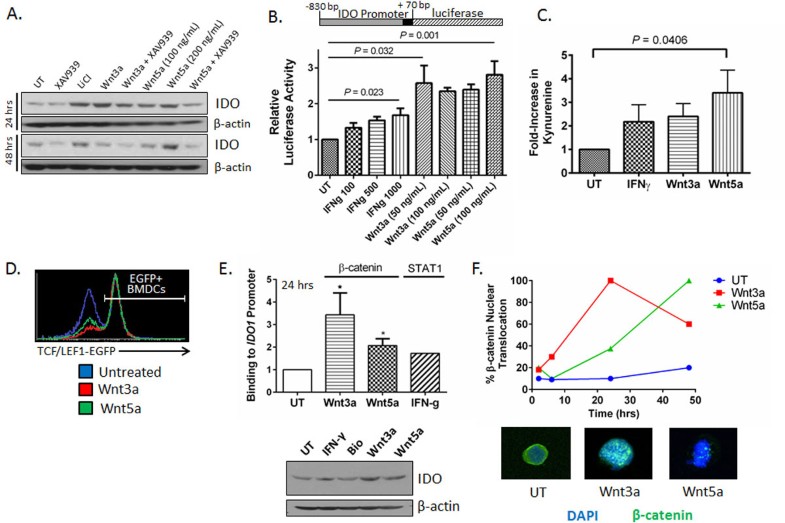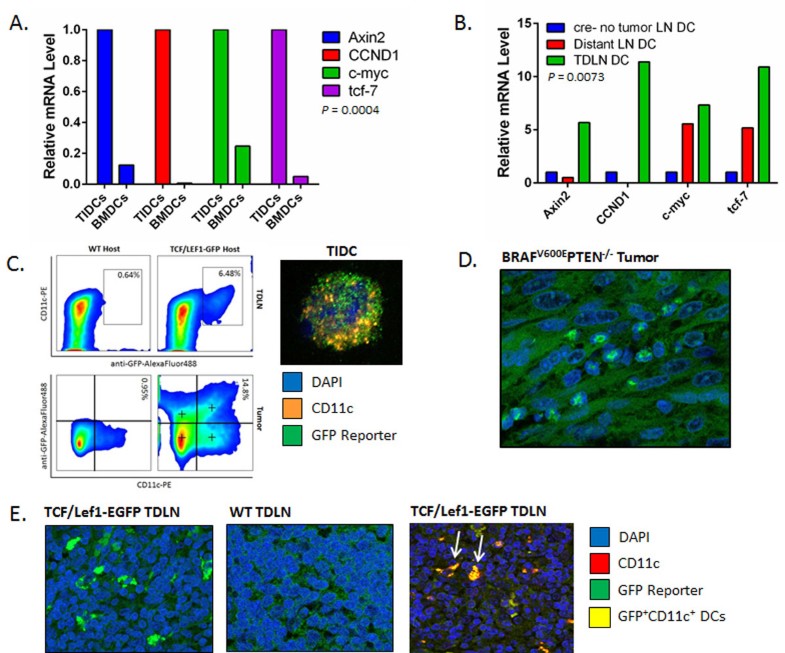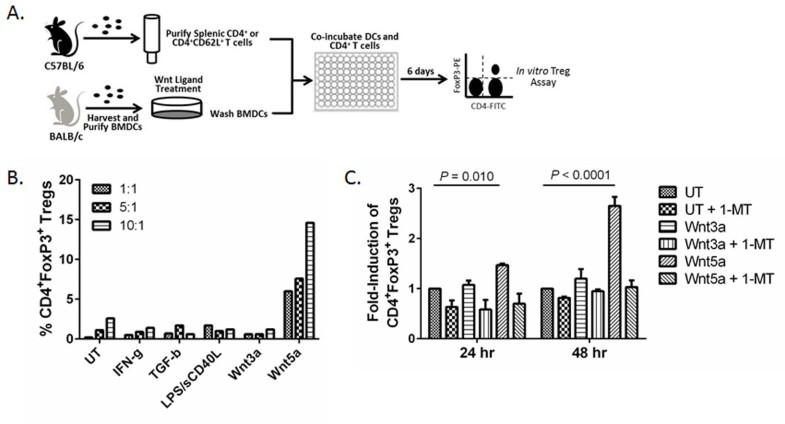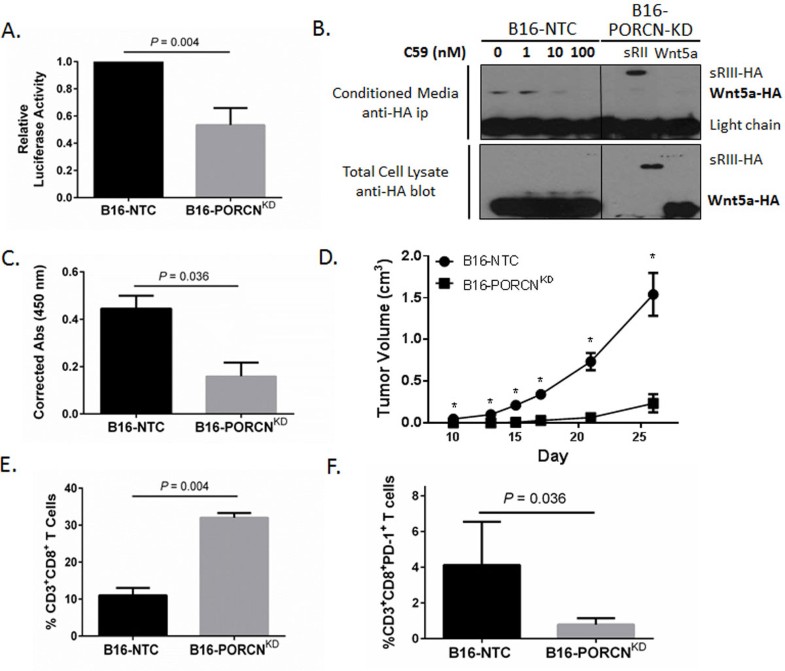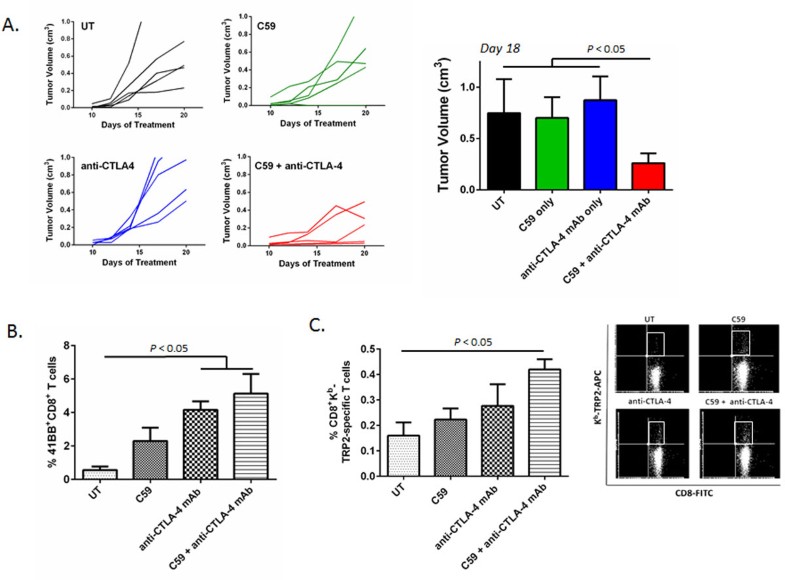 (1)
Department of Medicine, Division of Medical Oncology, Duke University Medical Center, Durham, NC, USA
(2)
Lineberger Comprehensive Cancer Center, University of North Carolina, Chapel Hill, NC, USA
(3)
Department of Experimental Medicine, sect. Pharmacology, University of Perugia, Perugia, Italy
© Zhao et al.; licensee BioMed Central Ltd. 2014
This article is published under license to BioMed Central Ltd. This is an Open Access article distributed under the terms of the Creative Commons Attribution License (http://creativecommons.org/licenses/by/4.0), which permits unrestricted use, distribution, and reproduction in any medium, provided the original work is properly cited. The Creative Commons Public Domain Dedication waiver (http://creativecommons.org/publicdomain/zero/1.0/) applies to the data made available in this article, unless otherwise stated.