Meeting report

Open Access
Target discovery for T cell therapy: next steps to advance Immunotherapies
Journal for Immunotherapy of Cancer
2015
3:31
Received: 2 March 2015
Accepted: 25 March 2015
Published: 21 July 2015
T cell target discovery remains one of the biggest challenges facing the immunotherapy field. With treatments becoming ready for prime-time, researchers need to increase their discovery efforts to meet patient needs and continue advancing the field. While there is a consensus that current targets considered for adoptive T cell therapies are few and challenging, there is an emerging realization that novel enabling technologies must also be developed, to afford more potent and safer T cell products against novel targets.
Cambridge Healthtech Institute's Inaugural Target Discovery for T Cell Therapy gathered leaders from academia and industry actively engaged in discovery and translation of novel targets for T cell immunotherapy:
http://www.imvacs.com/t-cell
. Experts shared strategies for chimeric antigen receptors (CARs), T cell receptors (TCRs), tumor infiltrating lymphocytes (TILs), and novel methods for novel targets (Figure
1
). Clinical data were showcased as well as in depth examination of where the field is headed.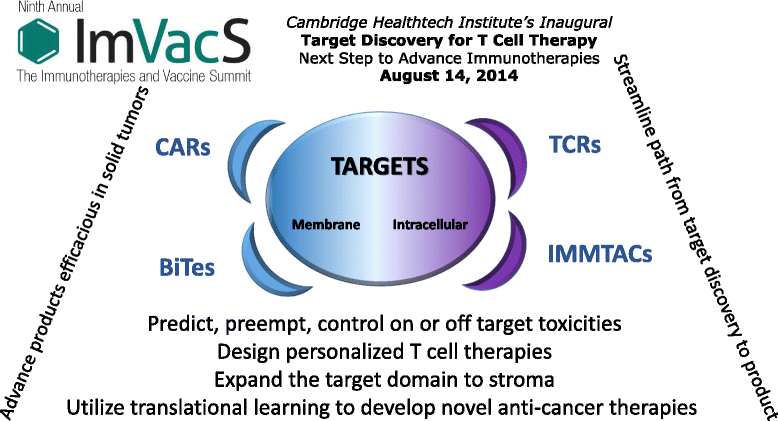 The event was organized in four sessions: the first two covered current Chimeric antigen receptor (CAR) and T cell receptor (TCR) technologies and associated targets that have been explored during the last few years, with opportunities, challenges and limitations they present. The next session covered novel targets and discovery approaches that also pertain to enabling technologies – as these will be critical to enable adoptive T cell therapies against a broader range of targets with leaky or very narrow expression profiles, respectively. Last but not least, the final session covered approaches to characterize mechanistic aspects of adoptive T cell therapy in clinic, through detailed understanding of immune pharmacodynamics markers as a key pre-requisite to spearheading such technologies through development and to commercialization.
(1)
Translational Medicine, Kite Pharma Inc., 2225 Colorado Avenue, 90404 Santa Monica, CA, USA
(2)
Cellular Biology, Adaptimmune Ltd., Abingdon, UK
(3)
Immunology, The Weizmann Institute of Science, Rehovot, Israel
(4)
Oncology Early Development, Therapeutic Area Head, Amgen, Thousand Oaks, CA, USA
(5)
Target Validation, Immunocore, Abingdon, UK
(6)
Immunohistochemistry, Pathology, Memorial Sloan-Kettering Cancer Center, New York, NY, USA
(7)
Immunotherapy, Bluebird Bio, Boston, MA, USA
(8)
Immunology, ImmuneCarta, Caprion, Montreal, Quebec, Canada
(9)
Lion Biotechnologies, Woodland Hills, CA, USA
(10)
Medicine, Section of Hematology-Oncology, Baylor College of Medicine, Houston, TX, USA
(11)
DNA Sequencing and FACS Cores, Surgery Branch; Staff Scientist, Center for Cancer Research, National Cancer Institute, Bethesda, MD, USA
(12)
Cancer Immunology & AIDS, Dana-Farber Cancer Institute; Professor of Neurology at Harvard Medical School, Cambridge, MA, USA
© Bot et al.; licensee BioMed Central. 2015
This is an Open Access article distributed under the terms of the Creative Commons Attribution License (http://creativecommons.org/licenses/by/4.0), which permits unrestricted use, distribution, and reproduction in any medium, provided the original work is properly credited. The Creative Commons Public Domain Dedication waiver (http://creativecommons.org/publicdomain/zero/1.0/) applies to the data made available in this article, unless otherwise stated.