Meeting abstracts
Open Access
31st Annual Meeting and Associated Programs of the Society for Immunotherapy of Cancer (SITC 2016): part two
National Harbor, MD, USA. 9-13 November 2016
Journal for ImmunoTherapy of Cancer
2016
4(Suppl 1):73
Published: 16 November 2016
Combinations: Immunotherapy/Immunotherapy
P189 Rational combinations of intratumoral T cell and myeloid agonists mobilize abscopal responses in prostate cancer
Casey Ager1, Matthew Reilley2, Courtney Nicholas1, Todd Bartkowiak1, Ashvin Jaiswal1, Michael Curran1
1Department of Immunology, University of Texas MD Anderson Cancer Center, Houston, TX, USA; 2Department of Cancer Medicine, University of Texas MD Anderson Cancer Center, Houston, TX, USA
Correspondence: Casey Ager (crager@mdanderson.org)
Background
Despite the success of checkpoint blockade immunotherapy in characteristically immunogenic cancers such as melanoma, these antibodies remain ineffective against poorly T cell-infiltrated malignancies including prostate cancer. Sensitizing these "cold" tumors to immunotherapy will require interventions which enhance tumor antigen presentation and T cell priming, while suppressing microenvironmental signals which constrain T cell expansion, survival, and effector function independent of coinhibitory signaling. We investigated whether intratumoral administration of either the STING agonist c-di-GMP (CDG) or dendritic cell (DC) growth factor Flt3-ligand can potentiate the therapeutic effects of T cell checkpoint modulation with αCTLA-4, αPD-1, and α4-1BB in a bilateral subcutaneous model of prostate adenocarcinoma. Additionally, we tested whether intratumoral delivery of low-dose checkpoint modulators with CDG at a single lesion can achieve abscopal control of distal lesions.
Methods
Male C57BL/6 mice were challenged subcutaneously on both flanks with TRAMP-C2 prostate adenocarcinoma, and treatment was administered intraperitoneally and/or intratumorally for 3 doses every 4 days, beginning on day 14 post-implantation for survival experiments or day 31 for flow analysis experiments.
Results
Intratumoral delivery of STING agonist CDG alone potently rejects all injected TRAMP-C2 tumors, but fails to generate systemic control of uninjected lesions. Systemic administration of αCTLA-4, αPD-1, and α4-1BB cures 40 % of mice with bilateral TRAMP-C2, and concurrent administration of CDG at one or both flanks enhances survival to 75 %. Similar effects are observed with intratumoral Flt3L, although administration at both flanks is required for full effect. Intratumoral low-dose αCTLA-4, αPD-1, and α4-1BB at a single flank induces abscopal effects in 20 % of mice, and concurrent administration of CDG enhances systemic immunity to cure up to 50 % of mice. We observe that the level of STING activation required to mediate rejection without inducing ulcerative toxicity is proportional to initial tumor size. Functionally, local STING activation complements intratumoral checkpoint modulation to reduce local MDSC infiltration, enhance CD8:Treg ratios, and downregulate the M2 macrophage marker CD206. In contrast, local Flt3L robustly enhances immune infiltration of injected and distal tumors, but therapeutic benefit is attenuated due to concomitant induction of FoxP3+ Treg.
Conclusions
Intratumoral STING activation via CDG or DC expansion with Flt3L potentiates the therapeutic effects of systemically-delivered αCTLA-4, αPD-1, and α4-1BB against multi-focal TRAMP-C2 prostate cancer. The abscopal potential of CDG alone is weak, in contrast to prior observations, but combining CDG with low-dose checkpoint blockade intratumorally can induce systemic immunity, suggesting an alternative approach for clinical implementation of combination immunotherapies at reduced doses.
P190 Multi-genome reassortant dendritic cell-tropic vector platform (ZVex®-Multi) allows flexible co-expression of multiple antigens and immune modulators for optimal induction of anti-tumor CD8+ T cell responses
Tina C Albershardt, Anshika Bajaj, Jacob F Archer, Rebecca S Reeves, Lisa Y Ngo, Peter Berglund, Jan ter Meulen
Immune Design, Seattle, WA, USA
Correspondence: Tina C Albershardt (tina.albershardt@immunedesign.com)
Background
Induction of immune responses against multiple antigens expressed from conventional vector platforms is often ineffective for reasons not well understood. Common methods of expressing multiple antigens within a single vector construct include the use of fusion proteins, endoprotease cleavage sites, or internal ribosome entry sites. These methods often lead to decreased expression of antigens-of-interest and/or reduced induction of T cell responses against the encoded antigens. Circumventing these limitations, we have developed a novel production process for our integration-deficient, dendritic cell-targeting lentiviral vector platform, ZVex, enabling highly flexible and effective multigene delivery in vivo, making it possibly the most versatile vector platform in the industry.
Methods
Up to five vector genome plasmids, each encoding one full-length antigen or immuno-modulator, were mixed with four constant plasmids, each encoding vector particle proteins, prior to transfection of production cells. Due to the propensity of lentiviruses forming genomic reassortants, the resulting vector preparations hypothetically contain a mix of homozygous and heterozygous vector particles. qRT-PCR was used to determine total and antigen-specific titers of ZVex-Multi vectors, defined as vector genome counts. Mice were immunized with ZVex-Multi vectors or monozygous vectors expressing multiple antigens from the same backbone to compare immunogenicity via intracellular cytokine staining. Two tumor models were used to evaluate therapeutic efficacy: 1) a B16 melanoma model, where tumor cells were inoculated in the flank and measured 2–3 times per week; and 2) a metastatic CT26 colon carcinoma model, where tumor cells were inoculated intravenously, and lung nodules were enumerated 17–19 days post-tumor inoculation.
Results
Titrations by qRT-PCR of multiple ZVex-Multi vector lots demonstrated that production yields of ZVex-Multi expressing up to four different tumor-associated antigens (e.g., NY-ESO-1, MAGE-A3) and two immuno-modulators (e.g., IL-12, anti-CTLA-4 or anti-PD-L1) were highly reproducible. Compared to mice immunized with vectors expressing multiple antigens from the same backbone, mice immunized with ZVex-Multi vectors consistently developed T cells against all targeted TAAs and exhibited improved tumor growth control and survival.
Conclusions
ZVex-Multi is a next generation DC-tropic vector platform designed to overcome limitations of single-genome vector platforms with respect to efficient co-expression of any combination of desired genes. Unlike other vector platforms, ZVex-Multi eliminates multiple cloning steps modifying the vector backbone, which can often result in unpredictable expression patterns of coded gene products. Its versatility and agility makes ZVex-Multi potentially the best-in-class vector platform for co-expression of multiple tumor antigens and immuno-modulators for enhanced cancer immunotherapy against a broad range of tumors.
P191 NK, T cells and IFN-gamma are required for the anti-tumor efficacy of combination-treatment with NKG2A and PD-1/PD-L1 checkpoint inhibitors in preclinical models
Caroline Denis1, Hormas Ghadially2, Thomas Arnoux1, Fabien Chanuc1, Nicolas Fuseri1, Robert W Wilkinson2, Nicolai Wagtmann1, Yannis Morel1, Pascale Andre1
1Innate Pharma, Marseille, Provence-Alpes-Cote d'Azur, France; 2MedImmune, Cambridge, England, UK
Correspondence: Pascale Andre (pascale.andre@innate-pharma.fr)
Background
Monalizumab (IPH2201) is a first-in-class humanized IgG4 targeting NKG2A, which is expressed as heterodimer with CD94 on the surface of NK, γδT and tumor infiltrating CD8+ T cells. This inhibitory receptor binds to HLA-E in humans and to Qa-1b in mice. HLA-E is frequently up-regulated on cancer cells, protecting from killing by NKG2A+ cells. Monalizumab blocks binding of CD94-NKG2A to HLA-E, reducing inhibitory signaling thereby enhancing NK and T cell responses. PD-1/PD-L1 inhibitors are successfully being used to treat patients with a wide variety of cancers. Combined blockade of NKG2A/HLA-E and PD-1/PD-L1 may be a promising strategy to better fight cancer by activating both the adaptive and innate immune systems.
Methods
To assess the effect of combined blockade of NKG2A/HLA-E and PD-1/PD-L1 in vivo, anti-mouse NKG2A and PD-1 antibodies were used in mice engrafted with A20 mouse B lymphoma cell line. For in vitro assays, anti-PD-L1 antibody durvalumab, and monalizumab were tested in human PBMC staphylococcal enterotoxin b assays.
Results
When cultured in vitro, the A20 cells express ligands for PD-1 but not for NKG2A. Exposure to IFN-γ in vitro, or subcutaneous injection into mice, induced expression of Qa-1b, resulting in a tumor model co-expressing PD-L1 and Qa-1b. Monotherapy with PD-1 or NKG2A blockers resulted in moderate anti-tumor efficacy while treatment with combination of NKG2A and PD-1 blockers resulted in a significantly higher anti-tumor immunity, and an increased rate of complete tumor regression. Depletion of either NK, or CD8+ T cells, or IFN-γ was enough to abrogate the efficacy of PD-1 and NKG2A blockade, indicating that both of these effector populations contribute to the efficacy of the combination treatment. To further explore this possibility and to assess the potential therapeutic relevance in humans, well-validated PBMC-based assays were used which showed that blocking both axes with a combination of durvalumab and monalizumab led to increased production of cytokines by both T and NK cells. Furthermore, the magnitude of the increase in cytokine secretion was dependent on the production of high levels of IFN-γ. Since IFN-γ is known to induce HLA-E this suggests that blockade of NKG2A could have a beneficial role in activation of immune cells through the combined blockade of PD-1/PD-L1.
Conclusions
Together, these data indicate that blocking NKG2A in conjunction with PD-1/PD-L1 checkpoint inhibitors provides increased anti-tumor efficacy mediated by IFN-γ and support the rationale for assessing this combination in clinical trials.
P192 Pharmacokinetics and immunogenicity of pembrolizumab when given in combination with ipilimumab: data from KEYNOTE-029
Michael B Atkins1, Matteo S Carlino2, Antoni Ribas3, John A Thompson4, Toni K Choueiri5, F Stephen Hodi5, Wen-Jen Hwu6, David F McDermott7, Victoria Atkinson8, Jonathan S Cebon9, Bernie Fitzharris10, Michael B Jameson11, Catriona McNeil12, Andrew G Hill13, Eric Mangin14, Malidi Ahamadi14, Marianne van Vugt15, Mariëlle van Zutphen15, Nageatte Ibrahim14, Georgina V Long16
1Georgetown-Lombardi Comprehensive Cancer Center, Washington, DC, USA; 2Westmead and Blacktown Hospitals, Melanoma Institute Australia, and the University of Sydney, Westmead, New South Wales, Australia; 3University of California, Los Angeles, CA, USA; 4University of Washington, Seattle, WA, USA; 5Dana-Farber Cancer Institute/Brigham and Women's Hospital, Harvard University, Boston, MA, USA; 6University of Texas MD Anderson Cancer Center, Houston, TX, USA; 7Beth Israel Deaconess Medical Center, Boston, MA, USA; 8Gallipoli Medical Research Foundation, Greenslopes Private Hospital, and the University of Queensland, Greenslopes, Queensland, Australia; 9Olivia Newton-John Cancer Research Institute, Heidelberg, Victoria, Australia; 10Canterbury District Health Board, Christchurch Hospital, Christchurch, New Zealand; 11Waikato Hospital Regional Cancer Centre, Hamilton, New Zealand; 12Royal Prince Alfred Hospital, Melanoma Institute Australia, the University of Sydney, and Chris O'Brien Lifehouse, Camperdown, New South Wales, Australia; 13Tasman Oncology Research, Southport Gold Coast, Queensland, Australia; 14Merck & Co., Inc., Kenilworth, NJ, USA; 15Quantitative Solutions, a Certara company, Oss, Netherlands; 16Melanoma Institute Australia, the University of Sydney, Mater Hospital, and Royal North Shore Hospital, Wollstonecraft, New South Wales, Australia
Correspondence: Michael B Atkins (mba41@georgetown.edu)
Background
The pharmacokinetics of pembrolizumab given as monotherapy are well characterized. Consistent with other monoclonal antibodies, pembrolizumab has low clearance (0.202 L/day), limited central (3.53 L) and peripheral (3.85 L) volume of distribution, and low variability in the central volume of distribution (19 % coefficient of variation). Pembrolizumab monotherapy has low immunogenicity potential, with an observed incidence of treatment-emergent anti-drug antibodies (ADA) of < 1 %. We present data on the pharmacokinetics and immunogenicity of pembrolizumab when given in combination with ipilimumab in the phase I KEYNOTE-029 study.
Methods
KEYNOTE-029 included 2 cohorts that assessed the safety and antitumor activity of pembrolizumab plus ipilimumab: a safety run-in that included patients with advanced melanoma or renal cell carcinoma (RCC) (N = 22) and a melanoma expansion cohort (N = 153). In both cohorts, patients received 4 doses of pembrolizumab 2 mg/kg plus ipilimumab 1 mg/kg Q3W followed by pembrolizumab 2 mg/kg Q3W for up to 2 years. Pembrolizumab serum concentration was quantified with an electrochemiluminescence-based immunoassay (lower limit of quantitation, 10 ng/mL). A validated bridging electrochemiluminescence immunoassay using a standard 3-tiered approach (drug tolerance level, 124 μg/mL) was used to detect ADA in serum.
Results
Across cohorts, 175 patients received pembrolizumab plus ipilimumab: 165 with melanoma and 10 with RCC. At least 1 evaluable sample for pharmacokinetic assessment was available for all 10 patients with RCC and 162 patients with melanoma. The predose serum concentration versus time profiles for pembrolizumab were similar in patients with RCC and melanoma (Fig. 1). Observed serum concentrations were within the range predicted for pembrolizumab 2 mg/kg Q3W given as monotherapy (Fig. 2). Of the 160 patients with melanoma who provided postdose ADA samples, 156 (97.5 %) were negative, 2 (1.3 %) were inconclusive, and 2 (1.3 %) were positive for treatment-emergent ADA. Best overall response in the ADA-positive patients was stable disease in one and progressive disease in the other. No patient with RCC had treatment-emergent ADA.
Conclusions
The addition of ipilimumab does not appear to impact pembrolizumab serum concentration or increase the risk of developing ADA in patients with advanced melanoma or RCC.
Trial Registration
ClinicalTrials.gov identifier NCT02089685.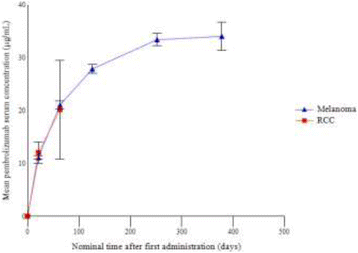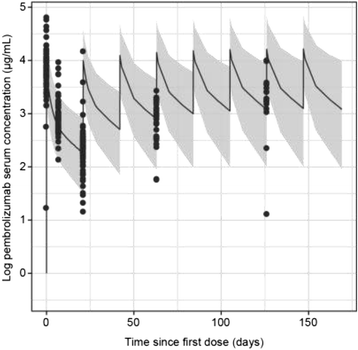 P193 Establishing a model for successful immunotherapy with T-Vec combined with BRAF inhibition and anti-PD-1 in genetically engineered murine melanoma
Robyn Gartrell1, Zoe Blake1, Ines Simoes2, Yichun Fu1, Takuro Saito3, Yingzhi Qian1, Yan Lu1, Yvonne M Saenger4
1Columbia University Medical Center, New York, NY, USA; 2Institut d'Investigacions Biomediques August Pi i Sunyer, Barcelona, Catalonia, Spain; 3Icahn School of Medicine at Mount Sinai, New York, NY, USA; 4New York Presbyterian/Columbia University Medical Center, New York, NY, USA
Correspondence: Zoe Blake (zb2161@cumc.columbia.edu)
Background
Talimogene laherparepvec (T-Vec) is the first oncolytic virus to be U.S. Food and Drug Administration (FDA) approved for the treatment of cancer. T-Vec, a modified herpes simplex type I (HSV I) virus, has two proposed mechanisms of action: direct cell lysis and immune activation. Combination immunotherapy using T-Vec and checkpoint blockade has shown promise in clinical trials. In preliminary work, our laboratory has shown that T-Vec causes up-regulation of programmed cell death protein 1 (PD-1) on infiltrating T cells in mice, suggesting potential synergy of T-Vec and anti-PD-1 (αPD-1).
Methods
In a temporally and spatially regulated murine model of BRAFCA PTEN−/− spontaneous melanoma [1], tumors are induced on right flank. When tumors reach >5 mm in diameter, mice are randomized into 6 treatment groups comparing combinations of BRAF inhibition (BRAFi), αPD-1, and T–Vec (Table 1). Tumor growth is measured twice a week until end of study. Flow cytometry is performed on tumor, lymph node, and spleen to assess immune microenvironment.
Results
Mean tumor volume and survival was plotted to compare groups (Figs. 3 and 4). Mice treated with triple combination have decreased tumor growth. Mice treated with combination T-Vec + BRAFi with or without αPD-1 have longer survival compared to mice treated with control or single drug arms. Flow cytometry shows increase in percent CD3+/CD45+ cells in tumors of mice treated with combination αPD-1 + T-Vec compared to the control and single drug arms. Percent CD8+/CD3+ cells in tumors treated with immunotherapy appears to be increased compared to the control and BRAFi only group (Fig. 5). Additionally, percent of FOXP3+/CD4+ cells in tumors appears to be decreased in groups receiving T-Vec (Fig. 6) while no change in FOXP3+/CD4+ populations was observed in tumors from groups receiving αPD-1 without T-Vec or in draining lymph node or spleen.
Conclusions
Initial findings show that combination therapy of BRAFi + αPD-1 + T-Vec is more effective than any single treatment. Combination immunotherapy increases infiltration of T cells into tumor. Furthermore, oncolytic virus appears to decrease regulatory T cells infiltrating tumor. This study is ongoing and further analysis will continue as we further evaluate the immune microenvironment using flow cytometry and immunohistochemistry.
Acknowledgements
The study was funded by the Melanoma Research Alliance and Amgen (Amgen-CUMC-MRA Established Investigator Academic-Industry Partnership Award). Reference
1. Dankort, Curley, Cartlidge,
et al.
:
Braf(V600E) cooperates with Pten loss to induce metastatic melanoma.
Nature Genetics
2009,
41
:544–552.
Table 1 (abstract P193).
Treatment groups
| Group | Treatment |
| --- | --- |
| Group 1 (Red) | Control Chow + IP 2A3 + IT PBS |
| Group 2 (Orange) | BRAFi Chow + IP 2A3 + IT PBS |
| Group 3 (Yellow) | BRAFi Chow + Ip α-PD1 + IT PBS |
| Group 4 (Green) | BRAFi Chow + IP 2A3 + IT T-Vec |
| Group 5 (Blue) | BRAFi Chow + IP α-PD1 + IT T-Vec |
| Group 6 (Purple) | Control Chow + IP α=PD1 + IT T-Vec |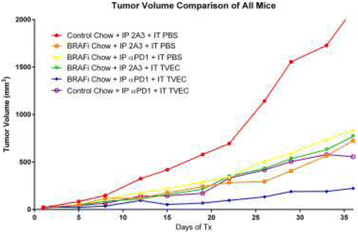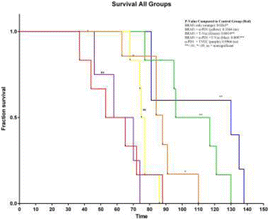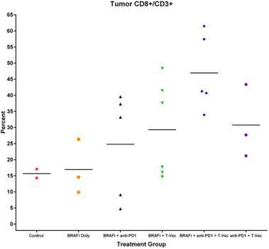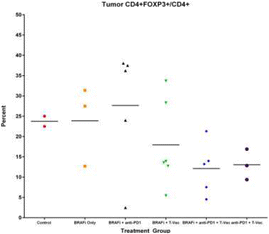 P194 Phosphatidylserine targeting antibody in combination with checkpoint blockade and tumor radiation therapy promotes anti-cancer activity in mouse melanoma
Sadna Budhu1, Olivier De Henau1, Roberta Zappasodi1, Kyle Schlunegger2, Bruce Freimark2, Jeff Hutchins2, Christopher A Barker1, Jedd D Wolchok1, Taha Merghoub1
1Memorial Sloan Kettering Cancer Center, New York, NY, USA; 2Peregrine Pharmaceuticals, Inc., Tustin, CA, USA
Correspondence: Sadna Budhu (budhus@mskcc.org)
Background
Phosphatidylserine (PS) is a phospholipid that is exposed on the surface of apoptotic cells, some tumor cells and tumor endothelium. PS has been shown to promote anti-inflammatory and immunosuppressive signals in the tumor microenvironment. Antibodies that target PS have been shown to reactivate anti-tumor immunity by repolarizing tumor associated macrophages to a M1-like phenotype, reducing the number of MDSCs in tumors and promote the maturation of dendritic cells into functional APCs. In a B16 melanoma model, targeting PS in combination with immune checkpoint blockade has been shown to have a significantly greater anti-cancer effect than either agent alone. This combination was shown to enhance CD4+ and CD8+ T cell infiltration and activation in the tumors of treated animals. Radiation therapy is an effective focal treatment of primary solid tumors, but is less effective in treating metastatic solid tumors as a monotherapy. There is evidence that radiation induces immunogenic tumor cell death and enhances tumor-specific T cell infiltration in irradiated tumors. In addition, the abscopal effect, a phenomenon in which tumor regression occurs outside the site of radiation therapy, has been observed in both preclinical and clinical trials with the combination of radiation therapy and immunotherapy.
Methods
We examined the effects of combining tumor radiation therapy with an antibody that targets PS (1 N11) and an immune checkpoint blockade (anti-PD-1) using the mouse B16 melanoma model. Tumor surface area and overall survival of mice were used to determine efficacy of the combinations.
Results
We examined the expression of PS on immune cells infiltrating B16 melanomas. CD11b + myeloid cells expressed the highest levels of PS on their surface whereas T cells and B16 tumor cells express little to no PS. These data suggest that targeting PS in B16 melanoma would induce a pro-inflammatory myeloid tumor microenvironment. We hypothesize that therapies that induce apoptotic cell death on tumor cells would enhance the activity of PS-targeting antibodies. We therefore examined the effects of combining a PS-targeting antibody with local tumor radiation. We found that the PS-targeting antibody synergizes with both anti-PD-1 and radiation therapy to improve anti-cancer activity and overall survival. In addition, the triple combination of the PS-targeting antibody, tumor radiation and anti-PD-1 treatment displayed even greater anti-cancer and survival benefit.
Conclusions
This finding highlights the potential of combining these three agents to improve outcome in patients with advanced-stage melanoma and may inform the design of future clinical trials with PS targeting in melanoma and other cancers.
P195 A novel anti-human LAG-3 antibody in combination with anti-human PD-1 (REGN2810) shows enhanced anti-tumor activity in PD-1 x LAG-3 dual-humanized mice and favorable pharmacokinetic and safety profiles in cynomolgus monkeys
Elena Burova, Omaira Allbritton, Peter Hong, Jie Dai, Jerry Pei, Matt Liu, Joel Kantrowitz, Venus Lai, William Poueymirou, Douglas MacDonald, Ella Ioffe, Markus Mohrs, William Olson, Gavin Thurston
Regeneron, Tarrytown, NY, USA
Correspondence: Elena Burova (elena.burova@regeneron.com)
Background
In the tumor microenvironment, T cell inhibitory checkpoint receptors trigger signals that suppress T cell effector function, resulting in tumor immune evasion. Clinical antibodies blocking one of these receptors, PD-1, yield positive responses in multiple cancers; however, their efficacy is limited. Simultaneously targeting more than one inhibitory checkpoint receptor has emerged as a promising therapeutic strategy. In support of this concept, mice deficient in PD-1 and LAG-3, an inhibitory checkpoint receptor often co-expressed with PD-1 in the tumor microenvironment, exhibit enhanced anti-tumor activity. Here, we demonstrate increased anti-tumor efficacy of a combined anti–human PD-1 (hPD-1) and anti–human LAG-3 (hLAG-3) therapy using fully human monoclonal antibodies in dual humanized PD-1 x LAG-3 mice. The pharmacokinetics and toxicology of the novel anti-hLAG-3 antibody were assessed in non-human primates to support clinical development.
Methods
REGN2810, a high affinity anti-hPD-1 monoclonal antibody that blocks PD-1 interaction with PD-L1 and PD-L2, and a novel high affinity monoclonal anti–hLAG-3 antibody, which blocks the LAG-3/MHC II interaction were generated. Dual humanized PD-1 x LAG-3 mice were engineered by replacing the extracellular domains of mouse Pdcd1 and Lag3 with the corresponding regions of hPD-1 and hLAG-3 and were used for testing antibody efficacy in a MC38.ova syngeneic tumor model. Expression of humanized PD-1 and LAG-3 were analyzed by flow cytometry. Binding of hLAG-3 to mouse MHC II was confirmed with a cell adhesion assay, and binding of hPD-1 to mouse PD-L1 was confirmed using surface plasmon resonance. The pharmacokinetics of anti-hLAG-3 antibody following a single i.v. dose, and the safety profile in a 4-week weekly i.v. dose regimen of up to 50 mg/kg/dose, were determined in cynomolgus monkeys.
Results
Treatment of MC38.ova tumor-bearing humanized mice with a combination of anti-hPD-1 and anti-hLAG-3 antibodies triggered activation of intratumoral and peripheral T cells. Importantly, the combination treatment exhibited an additive, dose dependent anti-tumor effect compared to the respective monotherapies. Anti-hLAG-3 antibody pharmacokinetics in cynomolgus monkeys followed a standard mean concentration-time profile characterized by an initial brief distribution phase and a linear beta elimination phase. Exposure to anti-hLAG-3 increased in a dose-proportional manner, with elimination half-lives ranging from 10.8 to 11.5 days. Anti-hLAG-3 antibody was well tolerated, and no-observed-adverse-effect level (NOAEL) could be established up to 50 mg/kg.
Conclusions
Preclinical anti-tumor efficacy of combined REGN2810 and anti-hLAG-3 antibody treatment, together with favorable pharmacokinetic and safety data for anti-hLAG-3 antibody in cynomolgus monkeys, support clinical development of this cancer combination immunotherapy.
P196 Combination of PD-L1 blockade with oncolytic vaccines re-shapes the functional state of tumor infiltrating lymphocytes
Cristian Capasso1, Federica Frascaro2, Sara Carpi3, Siri Tähtinen1, Sara Feola4, Manlio Fusciello1, Karita Peltonen1, Beatriz Martins1, Madeleine Sjöberg1, Sari Pesonen5, Tuuli Ranki5, Lukasz Kyruk1, Erkko Ylösmäki1, Vincenzo Cerullo1
1University of Helsinki, Helsinki, Uusimaa, Finland; 2University of Siena, Supersano (LE), Puglia, Italy; 3University of Pisa, Pisa, Toscana, Italy; 4University of Napoli Federico II, Helsinki, Uusimaa, Finland; 5PeptiCRAd Oy, Helsinki, Uusimaa, Finland
Correspondence: Cristian Capasso (cristian.capasso@helsinki.fi)
Background
The immunological escape of tumors represents one of the main obstacles to the treatment of malignancies. The blockade of PD-1 or CTLA-4 receptors represented a milestone in the history of immunotherapy. However, immune checkpoint inhibitors seem to be effective in specific cohorts of patients. It has been proposed that their efficacy relies on the presence of an immunological response. Thus, we hypothesized that disruption of the PD-L1/PD-1 axis would synergize with our oncolytic vaccine platform PeptiCRAd.
Methods
We used murine B16OVA in vivo tumor models and flow cytometry analysis to investigate the immunological background.
Results
First, we found that high-burden B16OVA tumors were refractory to combination immunotherapy. However, with a more aggressive schedule, tumors with a lower burden were more susceptible to the combination of PeptiCRAd and PD-L1 blockade. The therapy significantly increased the median survival of mice (Fig. 7). Interestingly, the reduced growth of contralaterally injected B16F10 cells suggested the presence of a long lasting immunological memory also against non-targeted antigens. Concerning the functional state of tumor infiltrating lymphocytes (TILs), we found that all the immune therapies would enhance the percentage of activated (PD-1pos TIM-3neg) T lymphocytes and reduce the amount of exhausted (PD-1pos TIM-3pos) cells compared to placebo. As expected, we found that PeptiCRAd monotherapy could increase the number of antigen specific CD8+ T cells compared to other treatments. However, only the combination with PD-L1 blockade could significantly increase the ratio between activated and exhausted pentamer positive cells (p = 0.0058), suggesting that by disrupting the PD-1/PD-L1 axis we could decrease the amount of dysfunctional antigen specific T cells. We observed that the anatomical location deeply influenced the state of CD4+ and CD8+ T lymphocytes. In fact, TIM-3 expression was increased by 2 fold on TILs compared to splenic and lymphoid T cells. In the CD8+ compartment, the expression of PD-1 on the surface seemed to be restricted to the tumor micro-environment, while CD4+ T cells had a high expression of PD-1 also in lymphoid organs. Interestingly, we found that the levels of PD-1 were significantly higher on CD8+ T cells than on CD4+ T cells into the tumor microenvironment (p < 0.0001).
Conclusions
In conclusion, we demonstrated that the efficacy of immune checkpoint inhibitors might be strongly enhanced by their combination with cancer vaccines. PeptiCRAd was able to increase the number of antigen-specific T cells and PD-L1 blockade prevented their exhaustion, resulting in long-lasting immunological memory and increased median survival.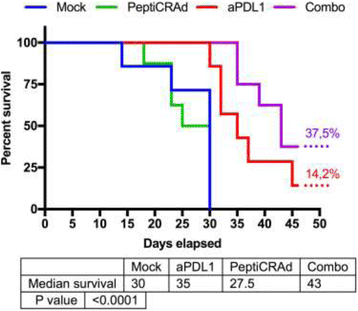 P197 In vitro evaluation of immunotherapy protocols through a label-free impedance-based technology allows dynamic monitoring of immune response and reagent efficacy
Fabio Cerignoli, Biao Xi, Garret Guenther, Naichen Yu, Lincoln Muir, Leyna Zhao, Yama Abassi
ACEA Biosciences Inc., San Diego, CA, USA
Correspondence: Fabio Cerignoli (fcerignoli@aceabio.com)
Background
In vitro characterization of reagent efficacy in the context of cancer immunotherapy is a necessary step before moving to more expensive animal models and clinical studies. However, current in vitro assays like Chromium-51, ATP-based luminescence or flow cytometry are either difficult to implement in high throughput environments or are mainly based on endpoint methodologies that are unable to capture the full dynamic of the immune response. Here, we present the adaptation of an impedance-based platform to monitor cytotoxic activity of immune cells activated trough different means.
Methods
Impedance technology detects cell death and proliferation of adherent cells by measuring changes in conductance of microelectrodes embedded in 96 and 384-wells cell culture plates. We utilized adherent and B cell leukemia/lymphoma cell lines as well as primary tumor cells as in vitro models for immunotherapy reagent evaluation. We seeded the cells on electrodes coated 96-well plates and monitored cell adhesion and proliferation for 24 hours. The following day effector cells were added at multiple effector:target ratios in presence of BiTEs antibodies and/or anti PD-1/PD-L1 antibodies. Impedance signal was monitored for up to seven days. Control wells were set up with effector cells only or with target plus effector cells but without antibodies. We adapted such adhesion-based technology to monitor non-adherent B-leukemia/lymphoma cells, by developing a strategy where the wells are coated with an anti-CD40 antibody. The coating allows specific adhesion and retention of B cells and measurement of changes in impedance that are proportional to cell number.
Results
Using increasing concentrations of EpCAM/CD3 BiTE, we demonstrated the suitability of an impedance-based approach to quantitatively monitor the efficacy of immune cells-mediated cancer cell killing both under different effector:target ratios and antibody concentrations. Combination treatments with checkpoint reduced timing and increased amount of killed cancer cells. Similar results were also obtained with engineered CAR-T cells against CD19 or NK cell lines, demonstrating specific killing of tumor B cells at very low effector:target ratios. The results were also confirmed by flow cytometry.
Conclusions
Overall, our results demonstrate the value of an impedance-based approach in measuring the cytotoxic response across the temporal scale, an aspect that is otherwise very difficult to assess with more canonical end point assays. Furthermore, the availability of 384-well format and minimal sample handling place the technology in an ideal spot for applications in large reagent validation screening or personalized medicine, like therapeutic protocol validation directly on patient samples.
P198 Tumor necrosis factor alpha and interleukin-2 expressing adenovirus plus PD-1 blockade as a boost for T cell therapy in the context of solid tumor therapies
Víctor Cervera-Carrascón1, Mikko Siurala1, João Santos1, Riikka Havunen2, Suvi Parviainen1, Akseli Hemminki1
1TILT Biotherapeutics, Helsinki, Uusimaa, Finland; 2University of Helsinki, Helsinki, Uusimaa, Finland
Correspondence: Víctor Cervera-Carrascón (victor@tiltbio.com)
Background
Because of the immunosuppressive tumor microenvironment, the immune system is unable to develop effective responses against tumor cells. This phenomenon also acts against the effectiveness of adoptive T cell therapy. In order to overcome this situation in the tumor, an attractive therapeutic combination is the combination of oncolytic viruses and immune checkpoint inhibitors. In this case, besides the last two therapies mentioned above, combinations with T cell therapy were also included. The virus used was engineered to express tumor necrosis factor α (TNFα) and interleukin (IL)-2, two cytokines that will boost the immunogenicity of the virus and thus its antitumor properties. On the other hand, the use of anti-PD-1 will avoid exhaustion on tumor infiltrating T cells and hence remove the barriers that could dampen the desired immune response against the tumor.
Methods
In the study of the antitumor effect of this three armed treatment we used an in vivo model of subcutaneous B16-OVA melanoma-bearing mice. Two experiments were carried out; the first one (n = 47) to establish the differences between the triple, double, and single armed combination therapies and the second experiment (n = 84) was focused on study the differences between the groups that showed the best outcomes in the first one and also optimize viral and anti-PD-1 administration regimes.
Results
Preliminary results show a statistically significant positive effect coming out from the combination of virus therapy and immune checkpoint blockade with regard to both tumor progression and overall survival, with up to 43 % complete tumor regression achieved in some of the groups after 96 days post treatment. On the other hand, the effect of adoptive cell therapy in this combination is not completely clear. More results will be presented after analyzing biological samples collected during both experiments.
Conclusions
Preclinical studies are a key step to detect which combinations are more suitable for success in human trials. In this study we developed a rationale for the combination relying on two concepts: to make silent tumors more visible to the immune system and to counter immunosuppressive mechanisms to unleash the full potential of T cells against the tumor, rendering in a modification of the tumor microenvironment that makes it more susceptible for T cell mediated killing. According to the results displayed from these experiments, the combination of this genetically modified adenovirus and PD-1 blockade is an efficient combination to be considered for future application in humans.
P199 IMM-101 primes for increased complete responses following checkpoint inhibitors in metastatic melanoma; 3 case reports
Angus Dalgleish1, Satvinder Mudan2
1St George's University of London, London, UK; 2The Royal Marsden Hospital and Imperial College London, London, UK
Correspondence: Angus Dalgleish (dalgleis@sgul.ac.uk)
Background
IMM-101, a heat-killed borate-buffered whole cell product of Mycobacterium obuense has been shown to enhance cell mediated cytokine responses and innate immune responses involving NK and gamma delta cells [1]. Complete responses (CR) in patients with melanoma lung metastases demonstrated. Follow up of original publication [2] has shown a 30 % 5-year survival. Combined with gemcitabine in metastatic pancreatic cancer a significant survival advantage over gemcitabine monotherapy is seen [3].
Methods
We present 3 patients with metastatic melanoma, progressed after initial stabilisation with IMM-101, who showed CR after check point inhibitors (CPI) ipilimumab (n = 2), pembrolizumab (n = 1). Patient 1: 2006 46 M melanoma left forearm, BT 3.7 mm, 1 positive lymph node. Recurrent disease treated with surgery, Aldara and low dose IL-2. 2010 pulmonary mets, commenced IMM-101, no response (initial SD). 2011 given Ipilimumab. Patient 2: 2011 50 F axillary lump removed, melanoma (no primary). Concomitant mediastinal, lung, gastric and peritoneal deposits. Gastric surgery, decarbazine. Commenced IMM-101 with cyberknife to lung lesion. 2013 Small bowel obstruction from new disease. Started ipilimumab. Patient 3: 2014 79 M melanoma, left cheek, BT 2.4 mm. Regional lymph node recurrence, treated with a left neck dissection in April 2014. Developed paracardiac nodes, adrenal, lung and multiple large subcutaneous deposits. Commenced IMM-101 with initial shrinkage. However, new large subcutaneous lesions. Commenced pembrolizumab.
Results
Patient 1 - CR on Pet CT, maintained through 2016. Patient 2 - CR maintained for 2 years. Patient 3 - CR of subcutaneous deposits four days after first injection.
Conclusions
The CR rate to CPI's is disappointing, < 1 % for Ipilimumab. PDL-1 expression is predictive for PD-1 responses and although CPI combinations are clearly needed, most are very toxic. IMM-101 is relatively free of toxicity, enhances PD-1 expression in pre-clinical models but may also prime tumour response to check point inhibitors by its action on macrophage function. Based on these observations, we speculate that IMM-101 primes for CPI's and propose a trial priming with IMM-101, followed by anti-PD-1 antibodies.
References
1. Fowler D, et al.: Mycobacteria activate γδ T-cell anti-tumour responses via cytokines from type 1 myeloid dendritic cells: a mechanism of action for cancer immunotherapy. CeII 2012, 61(4):535–547.
2. Stebbing J, et al.: An intra-patient placebo-controlled phase I trial to evaluate the safety and tolerability of intradermal IMM-101 in melanoma. Ann Oncol 2012, 23(5):1314–1319.
3. Dalgleish, et al.: Randomised open-label, phase II study of Gemcitabine with and without IMM-101 for advanced pancreatic cancer (IMAGE-1 Trial). BJC 2016, in press.
P200 Immunological impact of checkpoint blockade on dendritic cell driven T cell responses: a cautionary tale
Mark DeBenedette, Ana Plachco, Alicia Gamble, Elizabeth W Grogan, John Krisko, Irina Tcherepanova, Charles Nicolette
Argos Therapeutics Inc., Durham, NC, USA
Correspondence: Mark DeBenedette (mdebenedette@argostherapeutics.com)
Background
AGS-003 is an individualized, autologous, tumor antigen-loaded, dendritic cell (DC) immunotherapy currently in phase III development for the treatment of metastatic renal cell carcinoma (mRCC) in combination with standard-of-care. Antibodies to PD-1 on activated T cells or PD-L1 expressed on APCs have now been approved for treatment of several cancer indications including RCC. While there is a strong mechanistic rationale for the potential synergy of these agents in combination, data supporting the importance of sequencing the administration of these agents are limited. Since the DC-based immunotherapy, AGS-003, expresses high levels of PD-L1, combinations with checkpoint blockade may remove a critical signal protecting DCs during the early CTL activation phase in vivo. Concurrent administration of checkpoint inhibitors with AGS-003 may, therefore, impede the proposed mechanism of action of AGS-003, which is the induction of tumor-specific CTL responses. Results derived from in vitro modeling of DCs inducing T cell responses can demonstrate how to better mobilize the immune system to overcome the immunosuppressive environment of cancer. Therefore, it was of interest to test anti-PD-1/anti-PD-L1 antibody therapy in vitro in combination with DCs representative of AGS-003, to observe the effects combination therapy would have on antigen-specific CTL proliferation and functional responses.
Methods
DCs derived from monocytes were co-electroporated with MART-1 RNA and CD40 ligand RNA to represent AGS-003 DC products. In vitro co-cultures were set up with autologous CTLs and MART-1/CD40L DCs in the presence of anti-PD-1 or anti-PD-L1 antibodies. In some instances, PD-1 expression was hyper expressed on CTLs by electroporating MART-1-specfic CTLs with PD-1 RNA. Subsequent expansion of MART-1-specific CTLs and multi-functional responses in the presence of checkpoint blockade were mapped using multi-color flow cytometry.
Results
Combination with anti-PD-1 antibody did not did not negatively affect the expansion of MART-1-specific CTL responses; however, if PD-1 was hyper-expressed on previously stimulated MART-1-specific CTLs responses were diminished. Anti-PD-1 antibody blocking restored CTL function in the presence of high levels of PD-1 expression. Interestingly, anti-PD-L1 antibody blocking resulted in suppression of early MART-1-specific CTL expansion and subsequent downstream effector function.
Conclusions
Our results suggest that the sequencing of AGS-003 therapy and checkpoint blockade is important to allow full CTL activation by the DCs prior to anti-PD-1/PD-L1 therapy. Moreover the high expression of PD-L1 on DCs may serve as a "don't kill the messenger" signal, critical to prevent deletion of the DC prior to full signal delivery during early phases of CTL activation.
P201 Targeting the PD-1/PD-L1 signaling pathway for the treatment of OS lung metastasis
Pooja Dhupkar, Ling Yu, Eugenie S Kleinerman, Nancy Gordon
University of Texas MD Anderson Cancer Center, Houston, TX, USA
Correspondence: Pooja Dhupkar (pmdhupkar@mdanderson.org)
Background
Osteosarcoma (OS) is a primary bone malignancy, commonly culminating into aggressive pulmonary metastasis. Despite chemotherapy advances, the 5-year survival of pulmonary metastatic OS remains 25-30 %. Immunotherapy is one of the promising novel approaches to target minimal residual and relapsed disease. The objective of this study is to determine if blocking the PD-1/PD-L1 immunosuppressive signaling pathway using a PD-1 checkpoint inhibitor will have an effect in OS lung metastasis. Anti-PD-1 and anti-PD-L1 antibodies have exhibited therapeutic benefit in melanoma, and non-small cell lung carcinoma. We hypothesize that disruption of the PD-1/PD-L1 signaling pathway using anti-PD-1 antibody has an effect against OS lung metastasis and improves overall survival.
Methods
Flow cytometry and western blotting were used to analyze PD-L1 expression in 7 different OS cell lines. Immunohistochemistry (IHC) analysis was used to determine PD-L1 expression in OS lung metastases from patients and mice. LM7 human OS mouse model was used to test the effect of blocking murine PD-1 in OS lung metastases. Therapeutic effect of anti-PD-1 treatment was measured by the number of macro and micro-metastases. IHC was used to measure cell proliferation (Ki-67), apoptosis (TUNEL) and cleaved-caspase 3 expression in addition to NK cells and macrophages infiltration. Western blotting was used to address the downstream components of the signaling pathway such as p-Stat3 and p-Erk1/2